Wish Farms Announces Sponsorship, Kick-off to the Domestic Blueberry Season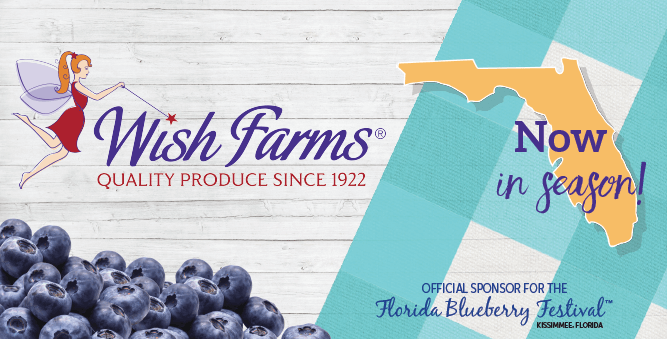 Plant City, FL (March 26, 2019) – International grower and year-round marketer of strawberries, blueberries, blackberries and raspberries, Wish Farms, is pleased to announce it will be the Official Grower Sponsor of the 2019 Florida Blueberry Festival.
Director of Marketing, Amber Maloney: "We see this as a perfect alignment and an exciting opportunity to promote our brand and connect with consumers. We want our loyal Berry Lovers to partake in the domestic season kick off in our backyard."
Demand for blueberries has seen a significant rise over the last decade as people are becoming keenly aware of their numerous health benefits.
As the largest grower of fresh blueberries in the state, Wish Farms expects to pack and market around four million pounds. With competition from Mexico increasing, Wish Farms believes this partnership, along with other marketing efforts, can help elevate the choice consumers have during the domestic season.
Director of Blueberry Operations, Teddy Koukoulis: "We have made a commitment to grow great tasting varieties like Chickadee, Arcadia and Kestrel. Not only do they meet our high flavor standard, their earlier yield allows us to transition into the Florida season sooner."
Wish Farms will be sampling and selling farm fresh Florida blueberries at their Festival booth.
In 2017, the two-day festival in Brooksville drew around 60,000 people. By shifting the venue to Kissimmee, changing the date from May to March and adding two days, officials believe this will have an extremely positive effect on attendance. "This is a celebration of local blueberries, and having support from a substantial grower like Wish Farms is really going to take our event to the next level," said Michael Heard, President of the Florida Blueberry Festival. Heard's marketing strategy includes actively campaigning across multiple media platforms, including digital ads, billboards, radio and television.
Who:               Wish Farms
What:             Florida Blueberry Festival
Where:           Formosa Garden's Event Center
3050 Formosa Garden Blvd.
Kissimmee, FL 34747
When:          Thursday March 28th 5pm-10pm
Friday March 29th 10am-10pm
Saturday March 30th 10am-10pm
Sunday March 31st 10am-5pm
Cost:               $10 – General Admission
$10 – Parking
Website:        https://floridablueberryfestival.org/
About Wish Farms:
Wish Farms, founded in 1922 and third-generation owned, is a year-round supplier of strawberries, blueberries, blackberries and raspberries growing both conventional and organic varieties. Nationally recognized for innovation, Wish Farms utilizes How's My Picking?™, a patented tool for traceability to ensure quality by tying consumer feedback to specific information from each day's harvest. For more information, please visit www.wishfarms.com.
The 2019 Florida Blueberry Festival™ – Kissimmee is a four-day festival with a minimal entrance fee. The festival provides free music on its amphitheater grounds. It will have a Wine Bar presented by The Island Grove Wine Company Formosa Gardens, a City Beverages Beer concessions with both craft and domestic choices, a Festival Fare Food court with food concessionaries and an adjoining large picnic table dining area, adorned with colorful umbrellas. The site will accommodate exhibitor booth spaces; retail & information exhibitors and Fine Arts and Crafts. Artisans interested in a Juried Art Show (presented by Tampa Bay Magazine) can participate with an opportunity to win $6,000 in cash awards. There are designated areas for the sale of Fresh Florida Blueberries, Fresh Blueberry Pies, Blueberry Plants and many other blueberry products, along with a special designated VIP Hospitality Pavilion. The Blueberry Patch Kids Zone will be filled with outdoor inflatable bouncers, bungee jumping, rock climbing and other fun activities for kids of all ages. Come Join the Fun March 28th – March 31st. https://floridablueberryfestival.org/