Plant City, FL (October 26th, 2023) – Plant City based, international grower and year-round marketer of strawberries, blueberries, blackberries, raspberries and pineberries, Wish Farms, is pleased to announce the completion of a large solar project at its Plant City headquarters.
"In many ways, farmers were the first environmentalists. They had to take care of the land, so it would take care of them," said PR Manager Nick Wishnatzki. "We are proud to continue that tradition by utilizing 21st century technology to make a difference for future generations."
The entire project, which adds to an existing solar array, consists of over 2,100 panels covering 80,000 square feet of warehouse roof space and parking lot covers. Producing 1.6 Gigawatts (1,600,000 kilowatt hours) of energy per year, it generates enough power for 117 Florida homes per year.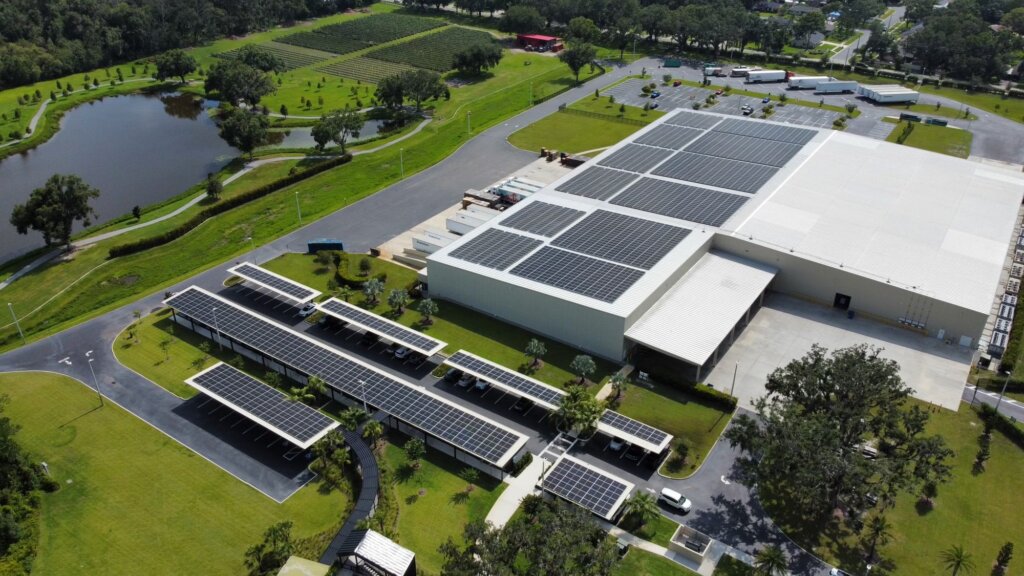 Wishnatzki: "Our warehouse facility has a significant footprint with around 100,000 square feet of refrigerated space, so moving to solar is the right thing to do from an environmental perspective. Not only will it save 36,000 tons of CO2 from entering the atmosphere, but there will also be a significant cost savings over the life of the system."
It is anticipated to cover 75% of the yearly electrical use in the warehouse. The system also feeds nine electric car charging stations at their headquarters, as well as fourteen electric forklifts and pallet jacks.
"It feels good to think of how our process will come full circle. Berries are grown by the help of the sun at our farms, and then they are cooled by using power generated from the sun.