Welcome to our autumn-inspired journey through the world of berries and fall flavors! As the leaves turn vibrant shades of red and gold, and the air grows crisp, it's the perfect time to explore the delicious and harmonious combinations of these beloved berries with the quintessential tastes of the season. Bring home the delicious taste of berries for the holidays with these flavor pairings and our collection of seasonal recipes.
Strawberries
The sweet and fruity taste of strawberries pair with:
Cranberries: Cranberries are in season during the fall, and a cranberry compote can add a tart contrast to the sweetness of strawberries. This combination is great for desserts, like strawberry-cranberry crisps.
Apples: Apples are a quintessential fall fruit, and a homemade apple compote can be a delightful topping for strawberry pancakes or waffles. The sweet-tart flavor of apples complements the strawberries well.
Cardamom: Cardamom, with its warm and slightly citrusy notes, pairs beautifully with strawberries. Consider adding a pinch of ground cardamom to strawberry sauces or jams for a sophisticated fall-inspired flavor.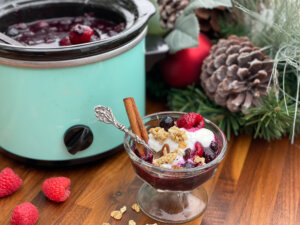 Try our Slow Cooker Berry "Crisp" and Cream for a taste of strawberries and warm holiday spices, like cardamom.
Blueberries
Add depth and warmth to the sweet and juicy taste of blueberries with:
Cinnamon: Cinnamon's warm and earthy notes complement the natural sweetness of blueberries. A sprinkle of cinnamon can elevate blueberry muffins, pies, or pancakes.
Pumpkin: While pumpkin is a classic fall flavor, pumpkin and the collection of pumpkin spices (cinnamon, nutmeg, ginger, and allspice) are a perfect compliment to blueberry desserts. Try making a blueberry-pumpkin spice pie or muffins for a distinctive autumn flavor.
Maple: Maple syrup is synonymous with fall, and it can drizzle over blueberry pancakes, waffles, or oatmeal, adding a rich, natural sweetness to your dishes.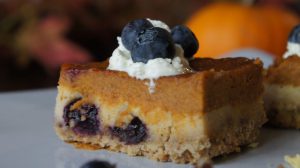 Try our Blueberry Pumpkin Spice Latte Bars for some blueberry and pumpkin magic!
Raspberries
The sweet and tangy taste of raspberries are delightful paired with:
Almonds: Raspberries and nuts are a classic combination. Almonds, with their subtle sweetness and crunch, pair wonderfully with raspberries in desserts like almond-raspberry tarts and almond-raspberry biscotti.
Pomegranates: Pomegranates are in season during the fall and are known for their sweet-tart seeds. They pair beautifully with raspberries, creating a dynamic and visually striking duo in salads and desserts.
Figs: Figs are another fall fruit that harmonizes with the flavor of raspberries. The fig's jammy sweetness complements the raspberry's tartness, making them a great match in tarts or preserves.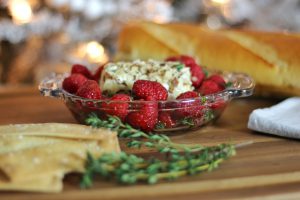 Try our Baked Goat Cheese and Balsamic Raspberry Dip for a taste of that raspberry and almond pairing!
Blackberries
Bring a wonderful dimension to the deep, sweet-tart taste of blackberries with:
Pears: Pears are a classic fall fruit that pairs beautifully with blackberries. The juicy and slightly grainy texture of pears goes hand-in-hand with the intense flavor of blackberries, making them a delightful duo in pies and crumbles.
Rosemary: Rosemary's fragrant, piney notes can provide a unique twist to blackberry recipes. A blackberry and rosemary sauce is a sophisticated addition to dishes like roasted meats or cheese platters.
Pecans: Pecans are often associated with fall, and a pecan praline topping or glazed pecan can add a delightful, sweet crunch to to blackberry salads or oatmeal.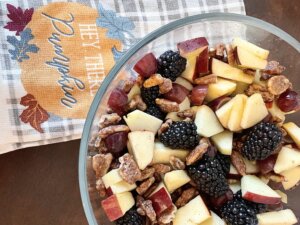 Try our Harvest Fruit Salad for a taste of blackberries paired with sweet glazed pecans.