Craving something sweet?  Put the chocolate down and reach for this Strawberry Almond Butter Smoothie!
No need to ruin your healthy progress, you can have a nice breakfast or snack you can be proud of!
It's smooth, fruity, and just the kick of sweet that you have been craving; not to mention the scoop of oatmeal makes this smoothie surprisingly filling too!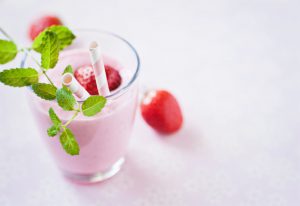 Tip- if you don't have almond butter, peanut butter will be just fine! Also- while the recipe calls for spinach you can always leave it out if you're afraid of a little greenery in your cup! (Although you definitely will not taste the spinach in this smoothie!)
CLICK HERE to get the recipe and give it a try today!