Florida sunshine right in your breakfast bowl! This recipe by Emily Richards on Godairyfree.org is simply amazing! Fiber packed and antioxidant rich, with all your favorite fruity sweet flavors!
This recipe is a hit!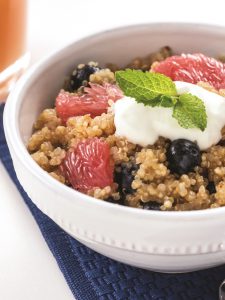 Ingredients
¾ cup dry quinoa, rinsed
¾ cup Florida Grapefruit Juice
½ cup water
2 tablespoons liquid honey or maple syrup
2 Florida Ruby Red grapefruit, segmented
1 cup fresh or frozen (defrosted) blueberries
1 cup dairy-free vanilla or plain yogurt
Fresh mint leaves
Instructions
Add the quinoa, grapefruit juice, water, and honey to a small saucepan. Bring to boil, cover and simmer for about 15 minutes, or until the liquid is absorbed and the quinoa is tender (add more water if needed).
Stir in the grapefruit segments and blueberries. Divide the quiona breakfast between shallow bowls and top with the dairy-free yogurt. Garnish with mint to serve.
*By ingredients, this recipe is dairy-free / non-dairy, egg-free, gluten-free, nut-free, peanut-free, soy-free, optionally vegan / plant-based, vegetarian, and generally top food allergy-friendly. Just be sure to pick a dairy-free yogurt that suits your dietary needs.