Wish Farms is excited to be a sponsor at the first annual Food & Wine Conference, July 19-21, hosted by Sunday Supper LLC at the Rosen Shingle Creek Resort in Orlando.
"The cutting-edge summit will bring together bloggers, small-business owners, marketing professionals, winemakers, chefs and other key players to teach and learn about making the most of online opportunities to grow their businesses."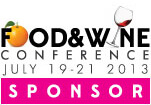 Wish Farms will be hosting brunch on Sunday where the Rosen Culinary School will be using our fresh strawberries and blueberries for a special summertime dessert.  Stay tuned for the recipe, photos and videos as we share our experience being a part of the fun foodie event!
Some of the seminars include:
The Zen of Blogging (Saturday)
Jaden Hair, Steamy Kitchen – @steamykitchen
Scott Hair, Steamy Kitchen
Writing that Gets Noticed by "The Media" (Saturday)
Janet Keeler, Tampa Bay Times – @roadeats
Jeff Houck, Tampa Tribune – @jeffhouck
Pam Settle, Good Living Magazine
Gayle Guyardo, News Channel 8 Morning & Midday Anchor – @WFLAGayleG
The Process of Writing a Cookbook (Saturday)
Sara Moulton, Chef, Cookbook Author, Television Personality – @saramoulton
Mary Goodbody, Writer, Consultant and Cookbook Editor
Dan Rosenberg, Editor Harvard Commons Press – @blogEATS
Katie Workman, Author and Editor in Chief – @katieworkman100
Doe Coover, Literary Agent
The Perfect Cooking Demonstration (Sunday)
Sara Moulton, Chef, Cookbook Author, Television Personality – @saramoulton
The World Through Your Lens (Sunday)
Irvin Lin, Eat the Love – @eatthelove
Carla Cardello, Chocolate Moosey – @chocolatemoosey
Cheri Alberts, The Watering Mouth – @thewatermouth
Renee Dobbs, Magnolia Days – @reneedobbs
We are so looking forward to meeting all of the attendees and sponsors of this fab new event!  If you would like to attend, there is still time to register for a day pass for Saturday and/or Sunday!