August 14, 2013
PLANT CITY — The recent winners of annual farming awards have varied roles in agriculture.  They included a farmer, the area's largest strawberry marketer, a teacher and an insurance executive. But retired educator Jim Jeffries said they share the same attribute:
"They all work hard. If you're successful in agriculture, you're going to be a hard worker," said Jeffries, who is also president of the Florida Strawberry Festival board.
Jeffries and others helped present the Salute to Agriculture awards, which Farm Credit of Central Florida and the Greater Plant City Chamber of Commerce have sponsored for more than 20 years.
The four winners at an awards breakfast today at the strawberry festival grounds were given plaques and standing ovations.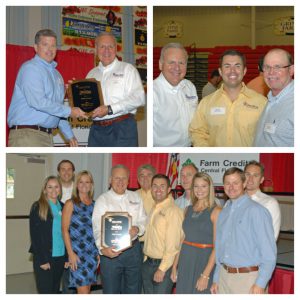 The honorees included:
Steve Mathis, a strawberry and blueberry farmer, was named Agriculturist of the Year. Mathis, who farms 160 acres, was singled out in part because of his support for school agriculture programs and other youth activities.
Emily Petrilli, an agriculture teacher at Tomlin Middle School, was honored as Ag Educator of the Year. Among other accomplishments, Petrilli is known as a teacher who challenges her students to excel. Her students have distinguished themselves in FFA, including some who competed at the annual national FFA convention.
Plant City-based Wish Farms, a family-owned business in operation since the 1920s, was named Agri-Business of the Year. Wish Farms, which is headed by Gary Wishnatzki, chief executive officer and grandson of the founder, was cited for innovative ways to ensure freshness of strawberries and other crops, along with support for migrant farm workers. Over the last 15 years, Wishnatzki and his company, the area's largest berry marketer, have raised more than $500,000 for Redlands Christian Migrant Association, which provides child care and education for the rural poor.
Jon Poppell, an avid outdoorsman and part of a family-owned insurance agency, won the Supporter of Youth in Agriculture award. Poppell is an associate director at the strawberry festival, where he is chairman of the steer show and sale. He also supports the FFA Foundation and other causes to help youth in agriculture.
Original article by Dave Nicholson | Tribune Staff
Published: August 14, 2013