Wish Farms is giving away $100 gift card to William-Sonoma
Whether you're a self acclaimed foodie or simply love to eat meals cooked by someone else, who wouldn't want the chance to win a $100 gift card to Williams-Sonoma.  Here's your chance to splurge on that latest and greatest kitchen appliance you've been eyeballing for quite sometime.  Shop till you drop for high-end cookware, kitchen decor & gourmet foods.
Wish Farms strawberries and blueberries are the perfect treat to lighten up your summer.  We invite you to enter our Pinterest Sweet Summertime Pin It to Win It contest by pinning your favorite summer-inspired berry recipes.
If you haven't joined Pinterest yet this is the perfect time.  Click here to set up a profile and get started!  Below are all the details on how to enter our contest.  Contest ends Friday, August 9th, 2013.
Here's what to do:
Create a Pin board called "Wish Farms Sweet Summertime"
Pin your favorite SUMMER-INSPIRED BERRY RECIPES and make sure at least 5 pins are from our Wish Farms Sweet Summertime Pin board.
Include hashtags

#wishfarms #sweetsummertime

on each pin.
Post a link to your board in the comment section of the contest pin or to this blog post!
Prize Details:  $100 gift card to Williams-Sonoma (gift card will be mailed to the winner)
Prize Eligibility:  Only persons residing in United States who are at least 18 years of age can enter.
Contest Starts:  July 12, 2013 @ 12:00 am (EST)
Contest Ends:  August 9, 2013 @ 12:00 am (EST)
The person with our favorite board will win the prize and be featured on the Wish Farms Pinterest page.  Winner will be announced via email Monday, August 12, 2013.  For questions regarding this contest please email [email protected] or comment below.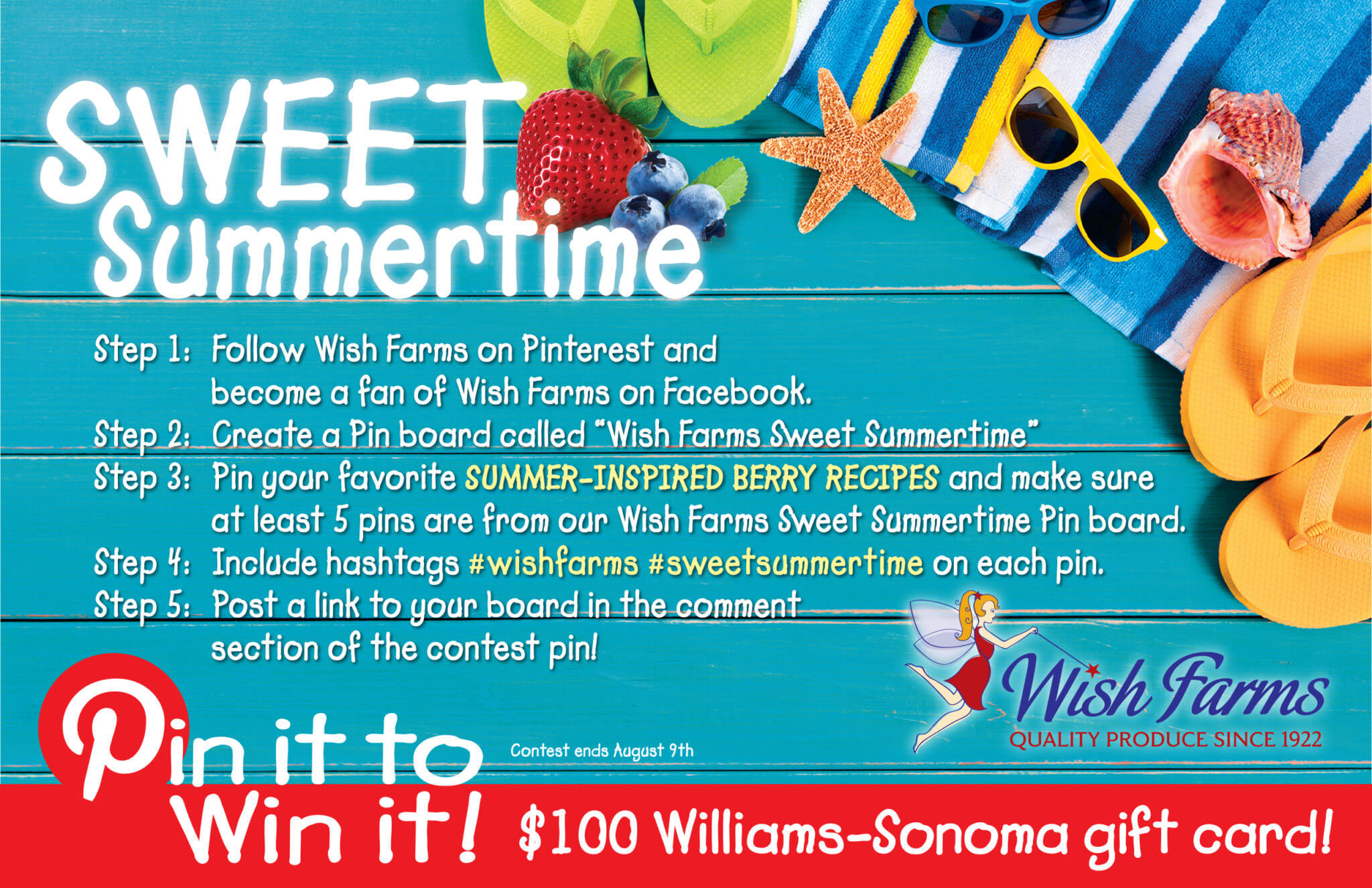 (Williams-Sonoma is not a sponsor of this contest.  Gift card is provided by Wish Farms.)