Thanks to the News Press website we no longer have to associate blueberries with solely breakfast and desserts! They can be added into your every day dinner recipes for a sweet and savory twist!
Salsas, salads, and sauces are a good start for incorporating your favorite fruit! Florida blueberries are in season! Take advantage of their immense availability and perfection ladies and gents!
Here is a delightful spring recipe to introduce blueberries into a savory dish!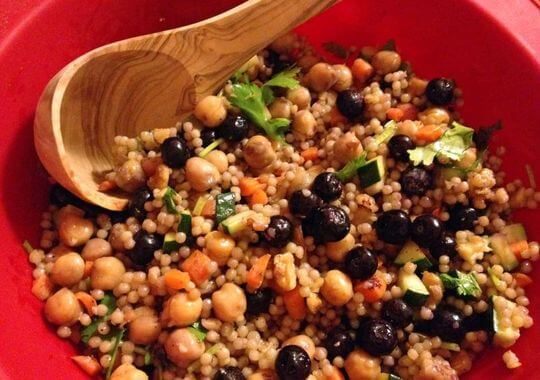 Vegetable couscous with blueberries makes an easy and filling main course or side dish with the chickpea protein, Israeli pearl couscous, nuts, vegetables and fruit.(Photo: Amy Sowder/The News-Press)
Vegetable Couscous with Blueberries
4 servings
–       Cup of Vegetable Stock
–       Cup Couscous
–       Teaspoon of grated lemon rind
–       Pinch ground cumin
–       Carrots diced
–       Small zucchini, diced
–       Cup Walnut halves, chopped
–       Cups fresh or frozen blueberries
–       Cup cooked (canned) chickpeas
–       Salt and pepper to taste
–       Sprigs each fresh coriander and flat leaf parsley, chopped
• In small saucepan, bring vegetable stock and 2 tbsp of the oil to boil. Add couscous, lemon rind and cumin; stir to combine. Remove from heat and cover; let stand for 5 minutes. Fluff with fork and scrape into large bowl.
• Meanwhile, heat remaining oil in skillet over medium heat and cook carrots for 5 minutes or until becoming softened. Add zucchini and cook for 3 minutes or until softened. Remove from heat and add walnuts. Add to couscous. Add wild blueberries and chickpeas to bowl. Season with salt and pepper to taste. Add coriander and parsley and stir to combine well.
Source: Adapted from the Wild Blueberry Association of North America, as seen on houseandhome.com
To view the entire article click HERE.