We've always known that our Pink-A-Boo® Pineberries were meant for the spotlight, but our blush berries have claimed "trending status" with a following of their own, particularity on TikTok!
Elite Daily's March article says that pineberries are "taking TikTok by storm" primarily due to the "TikTok-made-me-do-it" culture the app has created among millennials and Gen Z.
Elite Daily describes itself as: "the ultimate digital destination for millennial women who are discovering the world, and themselves in the process." As a publication, they cover all things lifestyle for their key demographic, from pop culture and politics to trending fashion, food, and travel destinations. The site reaches over 70 million viewers monthly and has an Instagram following of over 3.4 M.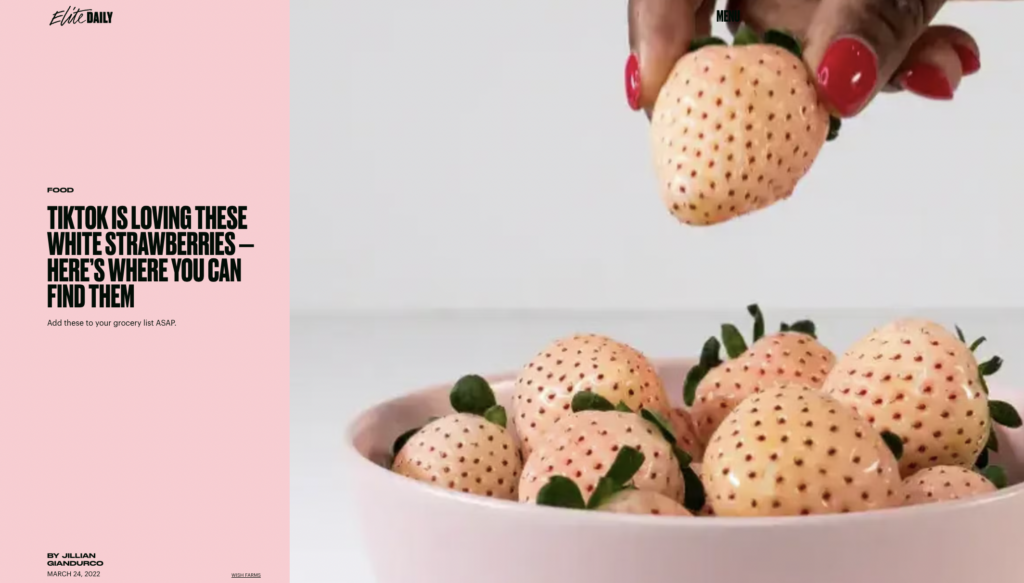 Wish Farms' Instagram gets a nice shout out in the piece and many of our retail partners – like Aldi, Costco, Hannaford, Publix, The Fresh Market – are highlighted in the 'Where to Buy' section.
The growth in popularity of the pineberry on TikTok can be attributed to the popular trend of posting reaction videos to trying new things – enter the eye-catching and very unique pineberry. Popular foodie and lifestyle influencers like @foodgod, @stickaforkinme and @clairecouvsmith have all posted their own reactions to trying, or recipes featuring, Wish Farms Pink-A-Boo® Pineberries on TikTok.
The top six TikTok videos featuring Wish Farms Pink-A-Boo® Pineberries have exceeded 42,600 shares, 1.7 M likes, and 10.5 million views. Collectively, popular hashtags on TikTok including #PinkABoo, #pineberries, #whitestrawberry and #whitestrawberries have over 23.3 M views.
Learn more about pineberries: Appearance & Taste | Where To Buy | How They Are Grown | Recipes & Inspiration | Media Kit