In Yahoo Life's March article, they dive into the pineberry trend, interviewing our own Nick Wishnatzki, PR Manager, for the facts.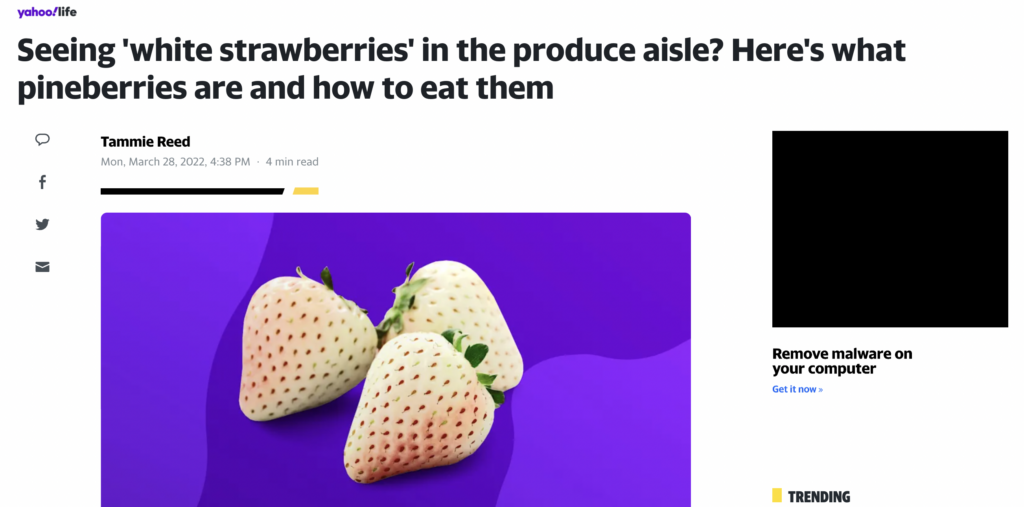 Yahoo Life is the lifestyle publication arm of the web service provider, covering everything from fashion and beauty to parenting and health.
In this article, Yahoo Life sought to share some answers with their readers focussing on"what is a pineberry and where does the trendy fruit come from?". Wishnatzki educates on what pineberries are, what they taste like, how you should eat them, and a few of our North American retail partners who are selling them – Costco, Giant Eagle, BJ's Wholesale Club, The Fresh Market and Aldi.
Beyond the FAQs, Yahoo Life covers a few of the popular personalities on TikTok who have shared their own reaction to the trendy new fruit. Exotic fruit connoisseur, Angela Scarfia, and fitness instructor Faith Enokian were featured. Enokian's TikTok has over seven million views and shows her tasting Wish Farms Pink-A-Boo® Pineberries for the first time in her car in the grocery store parking lot.
Learn more about pineberries: Appearance & Taste | Where To Buy | How They Are Grown | Recipes & Inspiration | Media Kit