Our very own Wish Farms owner, Gary Wishnatzki, is also the co-founder of Harvest CROO Robotics. Gary recently spoke at the California Strawberry Commission's Automation Summit on behalf of Harvest CROO Robotics, providing insight on the latest updates and future plans of the automatic harvester. The article coverage below was written by The Packer.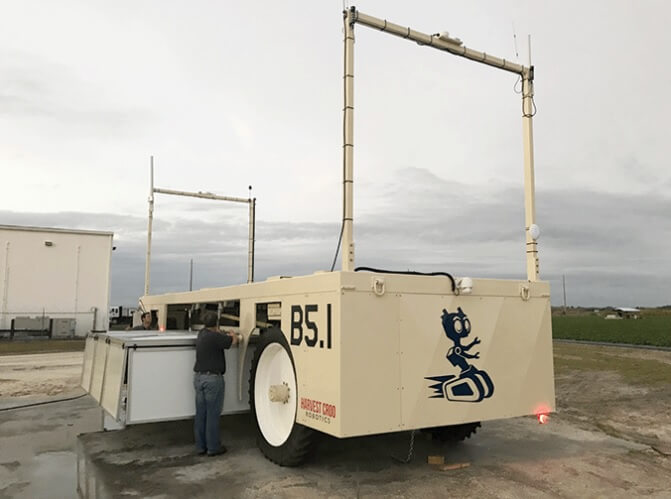 Plant City, Fla.-based Harvest CROO Robotics has developed a new version of its Harvest CROO — Computerized Robotic Optimized Obtainer — harvester and expects to begin commercial harvesting late this year.
Harvest CROO Robotics developed a picker prototype that identifies, selects and picks only ripe strawberries, leaving unripe berries and plants unharmed, said Gary Wishnatzki, co-founder of Harvest CROO Robotics and president, CEO and owner of Wish Farms in Plant City.
The latest iteration of the harvester — the Berry 5 — has some significant improvements over the B4, including a new chassis, Wishnatzki said.
Although the B5 is a hybrid, most of its motors are electric, and it will run for "quite a long time" on a tank of fuel, he said.
The Berry 5 "is going to be our alpha unit, which is going to be the first revenue-producing harvester come late fall or early winter this year," Wishnatzki said.
Wishnatzki's plan is to have a machine harvesting in Florida when the next strawberry season starts late this year.
A second machine will be introduced in Florida and later will be moved to California for harvesting in fall 2020 in Oxnard or Santa Maria.
At first, the harvester will require a couple of workers to hand pack the berries on the machine, but eventually the harvester will be fully autonomous, including the packing function, he said.
And it may not be clamshells that will be packed.
"We're looking at different packaging with Sonoco (Products Co.) and trying to come up with the best solutions for the future," he said.
"We don't want to be too disruptive on the packaging side, but there might be some better answers that we might be introducing for the future."
Plans call for the company to lease the harvesters to growers and to provide technical support services as needed.
CROO is the only machine that can operate in traditional strawberry beds and does not require growers to radically change how they grow strawberries, Wishnatzki said.
The vehicle will be able to navigate its own way through the field, he said.
"It won't require a driver."
It can replace 25-30 workers on a three-day pick cycle of a 25-acre field.
And that's not all.
"There are a lot of things we're looking at that could be game changers besides being a replacement for the pickers that are leaving," he said.
For example, the system will be able to help with crop forecasting and precision ag and help reduce cooling times and energy usage, he said.
Switching from hand harvesting to machine harvesting won't happen overnight.
"If we were to fully populate the entire Florida and California strawberry industries, it will take about 2,500 machines," he said.
Just covering the needs of investors in the program would take 1,500 harvesters. It would be "a multi-year roll out," he said.
By 2021, he expects to prove the machine's ability to commercially pick in all districts.
He anticipates strong demand from investors and customers and will make the machines "as quickly as we can ramp up," he said, probably hundreds of units per year.
The company also plans to ramp up its fundraising efforts this year.
"We've raised money in several different rounds from our partners in the industry," Wishnatzki said.
The next round will be "significantly more than what we've raised to date."
The project is supported by 70% of the U.S. strawberry industry, including 11 strawberry companies such as Driscoll's, Naturipe and California Giant in California and Grime Produce Co. and Wish Farms in Florida, Wishnatzki said.
Sonoco Products Co., a South Carolina packaging firm, also is an investor.