It is no secret that the COVID-19 pandemic impacted many communities. At the heart of Wish Farms' company culture, it is our passion to do our part in helping those around us. Last month, we had the opportunity to launch a "Buy Local. Spread Happiness." campaign in support of the local businesses that we all know and love. The goal of the Instagram campaign was just like it sounds: Wish Farms wanted to buy from local businesses (who make us all so very happy) and spread that happiness to those in the community who need it most.
Our posts encouraged users to tag their favorite local businesses, wherever 'local' is to them, and tell us why they love that business. By giving a shoutout in our post comments, the businesses were added to a raffle. We randomly selected 10 of the businesses to purchase a $500 gift card from. Over 420 entries were made by Instagram users with incredible support for their favorite local shops.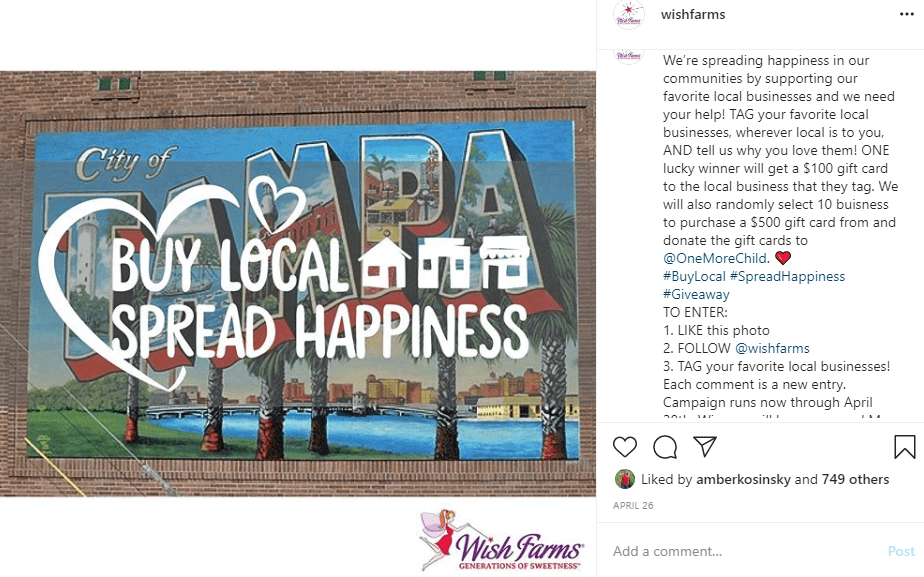 To continue our full circle of giving, we then donated the 10 gift cards to One More Child, a non-profit organization that provides shelter, services, and supplies to children and families in need. The gift cards included local restaurants, shops, and even a florist for this organization and their families to enjoy.

One More Child has brought hope-filled care to children and families since 1904. They exist to impact the lives of children and families through Christ-centered services. In 2019, One More Child impacted 261,691 children and individuals through their main service areas of Foster Care, Single Moms, Child Hunger, Anti-Trafficking, Global and Family Support.
At their 25 Florida locations and 13 International sites, they strive to be agents of positive change in the lives of those in need. Their focus is in finding unique and valuable ways to meet the needs of more children, locally and globally. From seeing the grin of a foster child receiving their first birthday cake to watching as a little girl is rescued from the clutches of sex-trafficking, One More Child is grateful to be a part of love in action.
We are humbled to have been a part of bringing some smiles and positivity to communities during this time. Stay tuned as we continue our mission to 'Feel good. Eat berries. Make a difference.'

Winners:
The Corner Store – Plant City, FL
Krazy Kup – Plant City, FL
Raok – Plant City, FL
Stein & Vine – Brandon, FL
Smartbox Company – Jacksonville, FL
Born and Bread – Lakeland, FL
Black and Brew – Lakeland, FL
Gourmet Goodies – Winter Haven, FL
Tub Treats – Plant City, FL
Carrollwood Florist – Tampa, FL