Now this recipe is quite unique. Originally this dessert was called Fairy Cakes, but a Wish Farms Pixie is of course better so I had to rename it. The cake recipe is an English recipe and uses a butter cream icing for filling instead of  a strawberry mixture. But, I had quite a few Wish Farms strawberries in my fridge so I decided to experiment. What could possibly go wrong with the combination of a sponge cake and delicious, juicy berries?
What you need for the cake:
3/4 cup of sugar
3/4 cup of sifted flour (preferably self rising)
3/4 cup of softened butter
3 eggs
1 teaspoon of baking powder
I begin with the cake! Preheat the oven to 375 degrees and then take 3/4 cup of sugar and 3/4 cup of softened butter and mix them together in a big bowl with an electric mixer. Add the 3 eggs, 3/4 cup of flour, and 1 teaspoon of baking powder and mix until the consistency is smooth.
Take a muffin tray and coat the pan with non-stick spray to make sure the cakes come out of the pan easily. Then fill the muffin tins each about 2/3 to 3/4 of the way full (mine filled 10). Place the cakes into the preheated oven and cook for about 15 minutes. To tell if they were done, I stuck a toothpick in the center of one cake and it came out clean so I knew they were done! Be sure to let the cakes cool for about an hour.
While the cakes are in the oven, it is time to start on the strawberry filling. The filling was not precisely measured because I had not made strawberry filling before! But, my taste buds never fail me and it came out great! I gave same estimations of what I used, but I would definitely recommend using your taste buds as well so the mixture is perfect for you!
What you need for the filling:
About 3/4 of a pound of strawberries
1-1 1/2 teaspoons of vanilla
2-3 teaspoons of sugar
1 tablespoon of butter
To start, heat up 1 tablespoon of butter in a frying pan on low to medium heat. While the butter is melting, take about 3/4 pounds of strawberries and cut them into small chunks about 1/4 inch by 1/4 inch in size and add them to the melted butter in the pan. Sprinkle about 2 teaspoons of sugar and 1 teaspoon of vanilla over the strawberries. Mix everything together and then let it sit for about 10 to 15 minutes on low to medium heat, stirring occasionally. After the 10 to 15 minutes, remove the strawberry mixture from the heat and pour into a bowl to let cool for about an hour.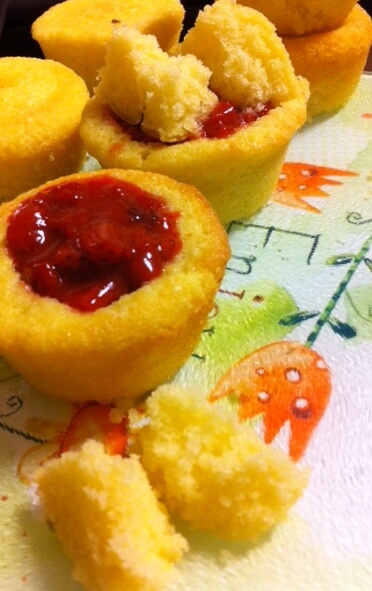 Once the cakes and strawberry filling is cool, it is time to put the Pixie Cakes together! It's not as complicated as it sounds to cut a portion of the cakes out to fill but here is a description of what I did: I took a knife about 1/4 inch from the edge of the cake and angled it in about 45 degrees so the point was in the center of the cake, then I took the knife around the whole circumference of the cake so there was a little piece of circle cake cut out where the filling can go. However, keep the little piece of cake because it will be used later!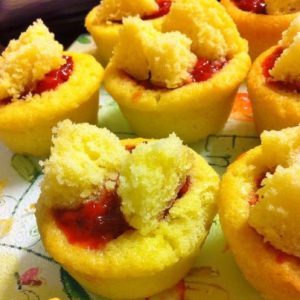 Fill the cakes with the strawberry filling. Then take a small piece of cake that was cut out and slice it in half to make the "wings". Finally position the "wings" on top of the filling to complete the Pixie Cakes!
Click here for an easy to print Pixie Cake recipe.