I wanted to come up with an easy smoothie recipe with the strawberries I had in my fridge…
But I was looking for something to spruce up my usual: greek yogurt, almond milk and fruit combination.
So as I looked through my pantry, I found this: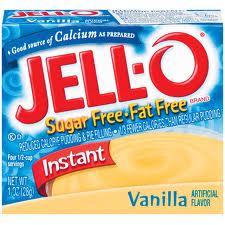 I added a little bit to my smoothie and it was so delicious – I've been hooked ever since.  I even tricked my husband into thinking it was a strawberry shake! Shh don't tell!
Ingredients:
1 cup Unsweetened Vanilla Almond Milk
1 cup Fage Total 0% Greek Yogurt
2 tbsp Sugar Free/Fat Free Vanilla Jello Pudding Mix
2 cups Strawberries, hulled and halved
1 packet Stevia all-natural sweetener
*Ice as desired
Blend all ingredients and enjoy!
Recipe makes 2 servings.
*I prefer to freeze the strawberries ahead of time.  That way you don't need to use ice, so it doesn't water down your smoothie or mess with the texture.
I hope you enjoy this recipe that makes a delicious breakfast, snack or even a guiltless dessert!