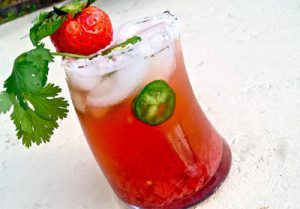 Our food loving friend Leslie from "Dash of Les" Tampa Bay's Favorite Food Blogger shared with us this mouthwatering festive cocktail that adds a perfect combination of sweet, sour and spicy flavors.
For all you certified heat-seekers and cilantro fanatics we hope you'll ditch the "pre-mixed" margaritas and give this homemade option a try!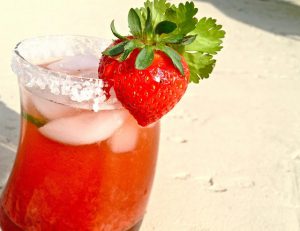 In Leslie's own words… 
Having no official knack for creating unique and luscious libations, I decided it was long overdue that I dig deep into my noggin's ingredient database for a combo that'd scream Cinco de Mayo celebrations.  A margarita would be the clear choice for the Mexican holiday that has doubled as a day for Americans to consume large quantities of tequila and tortillas.  But I couldn't just make any Margarita. What'd be the fun in that? Remembering that my favorite tequila and triple sec mixtures include fresh, sweet strawberries, I knew where I'd start. Still, I needed an interesting twist. A certified heat-seeker and cilantro fanatic, I had a plan. My deepest apologies cilantro haters, you may substitute with basil. Enter: Spicy Strawberry and Cilantro Margarita.
Ingredients:
8 ounces of your favorite silver Tequila (I'm a big fan of 1800)
6 ounces Triple Sec
3 cups sliced Wish Farms strawberries
4 tablespoons cilantro (plus 4 sprigs for garnishing)
1 whole, fresh jalapeno, sliced (plus 1 additional sliced jalapeno for garnishing)
Juice from 3 limes
1 additional lime, cut in wedges
3 tablespoons sugar
1/3 cup water
Large ice cubes
Kosher salt
Directions:
1) Combine strawberries, water and sugar into a saucepan on medium heat. Bring to a boil, stirring occasionally, until strawberries are reduced and mixture is thick. Pour into a glass or ceramic dish and let cool in the refrigerator for about 25 minutes.
2) Using a mortar and pestle (or a ceramic bowl and wooden spoon), muddle the cilantro, jalapeno and lime wedges.
3) Spoon (and "scrape") up half of your muddled mixture and add to a tumbler/shaker. Then add half of the strawberry "syrup" along with half of your lime juice, 4 ounces Tequila, 3 ounces Triple Sec, and a big handful of ice.
4) Give it a solid 20 second shake.
5) With a lime wedge, "wet" the rims of two glasses. Flip each glass over onto a small pile of kosher salt (or sugar) to coat the rims. Add ice to each glass.
6) Strain the margarita mixture into each glass. (I opted to spoon some of the strawberry syrup and remnants into the glasses as well )
7) Garnish with a few jalapeno slices (if you want extra heat) one strawberry (sliced 3/4 lengthwise) and a cilantro sprig. Enjoy!
***Repeat Steps #3-7 for 2 more drinks. Recipe serves 4***
Click here to print the recipe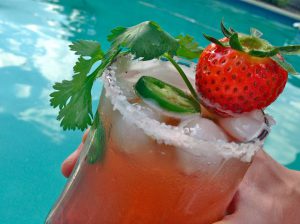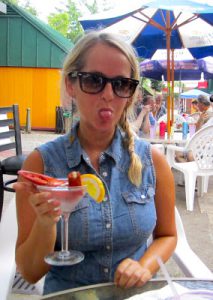 Leslie admits she is not a trained chef, food critique or professional blogger rather she credits herself as being a "restaurant rampant, a fine-looking foodie and a creator of creative casual cuisine."
This quick-witted spunky blogger has a passion for food and a quench for hunger that leaves us excited each and every time she shares a new post.  Be sure to check out more of her food adventures!
Click here to visit "Dash of Les" Tampa Bay's Favorite Food Blogger