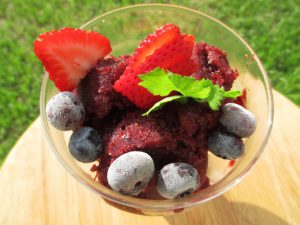 We love Cinco de Mayo and so does our  foodie friend Jennifer Huber, blogger of Solo Travel Girl!  If you haven't checked out her blog be sure to do so.  Her adventurous spirit and passion for other cultures is evident in all of her travel and food posts.
Solo Travel Girl creates a twist on a popular paletas, those Mexican ice pops made with fresh seasonal fruit.  If you don't have the setups for making ice pops, try this refreshing sorbet recipe she whipped up utilizing fresh Wish Farms strawberries, blueberries and her favorite herb, cilantro.
Ingredients:
Directions:

Rinse strawberries, blueberries, cilantro and jalapeno pepper.

Hull the strawberries.

Using rubber gloves, slice off the stem and discard and slice open the jalapeno pepper lengthwise to remove and discard the seeds.

Place all ingredients in a blender or NutriBullet with Milling Blade.

Blend until liquefied.

With a bowl under the strainer, pour contents into the strainer to separate the mixture. Use a spatula to push the juice through.

Pour into freezer- friendly bowl or pan, then freeze.

When ready to serve, let the sorbet stand about five minutes or until it's soft enough to scoop.

Garnish with blueberries, strawberries and sprig of cilantro.

Buen provecho!

Click here to print this recipe

Jennifer Huber author/blogger Solo Travel Girl "Traveling alone, not lonely"

To see more Solo Travel Girl recipes click here!

Did you know?… Cinco de Mayo—or the fifth of May—commemorates the Mexican army's 1862 victory over France at the Battle of Puebla during the Franco-Mexican War (1861-1867).