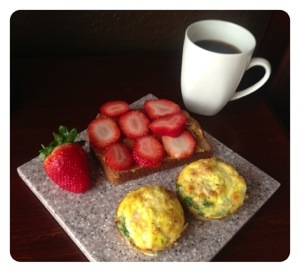 Who doesn't love breakfast in bed on a lazy weekend! This healthy morning meal will get you up and moving for the day. The kids will love it too!

Strawberry & Almond Butter Toast
Toast a slice of your favorite bread
Generously spread on almond butter. We used a crunchy spread. Our favorite brand is All Natural Barney Butter. It is gluten free and peanut free.
Top with slices of fresh Wish Farms strawberries

Egg Muffin Ingredients:
Serving: 12 muffins
Non stick spray
10 eggs
2 tbsp of milk
large handful of fresh spinach
6 thin slices of turkey (or ham)
1/4 cup shredded mozzarella cheese (or cheddar)
salt and pepper to taste

Instructions:
Pre-heat oven to 375
Spray muffin tins with non-stick spray
Chop spinach and turkey
Evenly sprinkle the ingredients into each of the muffin tins
With a fork, beat eggs, milk, salt and pepper in a large bowl
Using a large spoon scoop egg mixture into each of the muffin tins filling almost to the top
Sprinkle mozzarella cheese on top of each muffin
Bake for 20-23 minutes. Insert a tooth pick into the center of the muffin. If it comes out clean your muffins are ready!