By LORA ABCARIAN ~ November 26, 2013
The blueberry season is hitting its stride at Wish Farms. "Right now, we're getting in a pretty good amount of Argentinean blueberries," said President and Chief Executive Officer Gary Wishnatzki in early November. "Chilean blueberries will be coming in a couple of weeks."
Wish Farms, located in the heart of strawberry country in Plant City, FL, is a multi-generational family-owned company that has moved an array of quality produce into the pipeline since 1922. In addition to blues, the company also grows and markets strawberries, bell peppers, pickles/Kirby cucumbers, grape tomatoes, eggplant, squash and other seasonal vegetables.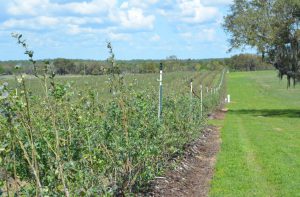 Wishnatzki said the blueberry category is exploding, and business has been good. "Our share of the market is expanding," he told The Produce News. "We get four million to five million pounds of blueberries out of Chile alone."
This is no surprise to Wishnatzki. "The entire [berry] category has been increasing in the last 10 years," he stated.
Blueberries are an excellent complement to Wish Farms strawberry operations. "It's a really good fit," he noted. Both conventional and organic berries are offered. While blueberries and strawberries are marketed separately, Wish Farms can accommodate customers by shipping the fruit together to facilitate logistics.
The Florida strawberry production season will ramp up in late November and end in mid-April. Moving into production, Wishnatzki said that he company has applied for a guest worker permit. But he anticipates labor will be a challenge, particularly during the late season. As a result, he expects some cap on production at that time.
"We want to be proactive on this," he stated. "We don't want to see crops left in the field."
Peppers are also harvested in Manatee County and marketed during the fall.
While a good portion of Wish Farms' customers are located in Florida, commodities are moved throughout North America. Wish Farms markets product to a customer base comprised of all market sectors, with emphasis on retail.
Product is packed and marketed under Wish Farms "Misty the Garden Pixie" label. "We also pack a 'Strawberry Joe' label. But our focus this year has been increasing the demand for our Wish Farms consumer brand," he stated. Wishnatzki said he is gratified that the "Pixie" label continues to gain traction and recognition in the produce department.
Wish Farms continues to use social media to engage consumers. The company's website contains a full recipe catalog, grower profile videos and Pixie Post blog. "We have 35,000 fans on Facebook. We expect that to mushroom this year," Wishnatzki commented. "That really helps the brand."
The Pixie Post blog is also integrated with Twitter, Pinterest and Instagram.
Click here to view the original article written by Lora Abracarian and posted November 26, 2013 to The Produce News:  Covering Fresh Produce Around the Globe Since 1897