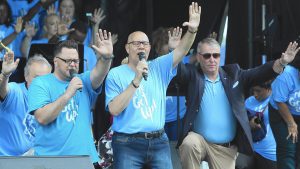 "He Got Up", an event to benefit the homeless in Orlando, served over 25,000 people in need this Easter Sunday at the Citrus Bowl.
Wish Farms 3rd generation owner, Gary Wishnatzki, was inspired to offer support. "This [He Got Up] event was a huge undertaking for the Orlando Serve Foundation," said Wishnatzki. "The planning and resources that went into coordinating an event of this magnitude was really impressive. We were happy to donate healthy nutritious produce to those in our community who need it most."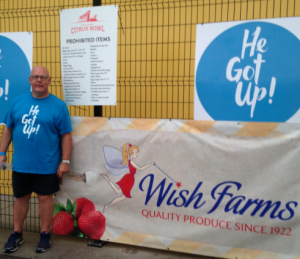 The 2,700 pounds donated is the equivalent of 250 flats and 2 pallets. This was enough to feed over 25,000 people! The fresh strawberries were served at lunch and extra flats were given away as attendees left the event.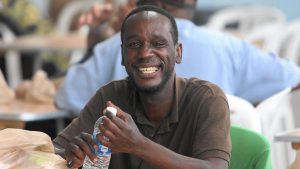 Rev. Tim Johnson, a former NFL player turned pastor, created He Got Up Orlando because he feels serving the community and helping the homeless is what Jesus would do.  He Got Up Orlando – the county's largest-ever homeless service event and resource fair,  serves the community by leveraging existing resources to assist those in need on a path towards self-sustainability.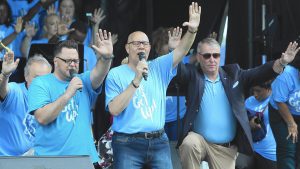 Over 2,000 volunteers gathered at the Citrus Bowl Easter Sunday to help provide optometry, dental, legal, and job placement services in addition to providing hot showers, hair cuts, general health and wellness, a kids zone, and food and beverage all free of charge.