The holidays are upon us…and who wouldn't want a little extra cash in their pocket!
Our Berry Merry Holiday Pinterest contest is your answer!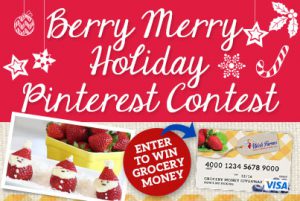 How to Enter:
1. Follow Wish Farms on Pinterest
2. Create your own Pinterest board, titled Wish Farms Berry Merry Holiday
3. Pin the Contest Image, at least 2 additional pins from Wish Farms Berry Merry Holiday board, and at least 1 additional recipe from wishfarms.com
4. Submit your entry by end of day December 21, 2015.
The prize
One lucky qualifying winner will receive a $100 Visa Gift Card!
Pin great recipes like the ones below for your family this holiday AND get the chance to win!