As we all know, the Florida Strawberry season is slowly and sadly coming to an end; The excitement of the many fresh strawberry recipes, fair food and rides at the Strawberry festival is dimming down but the fun doesn't have to stop there!
If you have attended and loved the Strawberry Festival in Plant City, there is no doubt that you will have an amazing time at the Florida Blueberry Festival in Brooksville.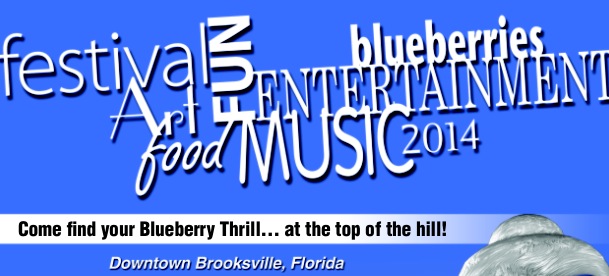 Many of us don't associate Florida with Blueberries; however, Florida has grown to be 8th in the nation for blueberry production!
According to an article in Eyes on News, "Brooksville is the center of 15 Florida counties that grow blueberries. All are participating in this festival to celebrate the spring blueberry harvest." CLICK HERE TO READ THE FULL ARTICLE 
What's there to do at the Florida Blueberry Festival you ask? Direct from the Florida Blueberry Festival site it states,
"Throughout the day we will have amazing various local musicians entertaining the crowds. With twenty assorted food concessionaires, and the Fresh from Florida Market featuring Florida grown blueberries and produce, there will be plenty of delectable edibles to choose from.
Wander our streets to take in the Car Show, Street Entertainers and sixtyArtisans selling their beautiful creations and participating in our Juried Art Show! One hundred Retail Exhibitors will be set up to entice you with a variety items we are sure you'll love.
Great family fun includes, Blueberry Patch Kids Zone with games and entertainment fun for the kids, Blueberry Theatre, Zip Line ride, a Masters Putting Challenge, the Blueberry Derby and much much more!"
This is surely an event that you and your family will not want to miss!
Admission:
Children 5 & under – Free
Ages 6 to 17 – $3.00
Adults (18+) – $5.00