Give this Sunday a little extra something special!  Whether it's going to be a typical Sunday running around from activity to activity or completing a mountain of chores you've been meaning to finish all week, here are our favorite berry recipes perfect to spruce up any mundane Sunday.  We've included some fancy (but super simple) breakfast options, a fresh crisp salad, a refreshing beverage and of course a sweet treat to end the day.
Barbara Bakes
Strawberry Crepes
Barbara created her blog, Barbara Bakes, to allow her family to find all her recipes easily in one location. Barbara loves to cook, but baking sweets is her specialty. Barbara's strawberry crepes recipe will come in handy when you are looking to spruce up your breakfast ritual. If you're feeling fancy give these strawberry filled French pancakes a try! Top the crepes with a dollop of whipped cream, and breakfast is served. Follow Barbara on Twitter @BarbaraBakes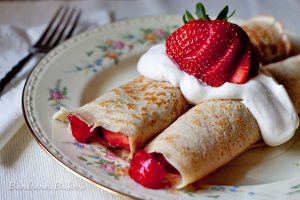 View Recipe!
Real Mom Kitchen
Overnight Blueberry French Toast
Real Mom Kitchen is a blog written by Laura. She has had a passion for cooking since she was a child. She shares many delicious recipes on her blog, and has even written her own cookbook! Laura has a perfect berry breakfast recipe for those who have an early-morning schedule. Her overnight blueberry french toast is prepared the night before, so all you have to do is pop it in the oven the next morning. There is no need to wake up extremely early, the hard work is already complete! Follow Laura on Twitter @RealMomKitchen
Oopsey Daisy
Strawberry Poppy Seed Salad
Alison is the blogger for Oopsey Daisy. Alison's major hobby is crafting. From cooking to art projects, she does it all! On her blog, we came across the perfect weekend lunch recipe. After a big breakfast, why not have a healthy lunch? Alison's strawberry poppy seed salad is a delicious light lunch that even the kids will love! The sweet juicy strawberries paired with the savory bacon makes this salad irresistible! Follow Alison on Twitter @OopseyDaisy917
Craftaholics Anonymous
Strawberry Lemonade
The Linda is the creator of Craftaholics Anonymous. Crafting is more of a hobby for Linda, it is a passion! She shares numerous do-it-yourself projects, including some delicious recipes. Linda has a drink recipe that compliments any weekend meal wonderfully: strawberry lemonade! Since this lemonade is homemade, it makes every meal extra special. Follow Linda on Twitter @CraftaholicAnon
Bake or Break
Blueberry Jamboree
Bake or Break is a blog created by Jennifer. Jennifer's grandmother has been a big inspiration in her life, especially when it comes to cooking. Over the years, Jennifer has found a love for creating new recipes. We discovered this light and tasty dessert among Jennifer's collection of recipes. Jennifer uses juicy blueberries in a sweet treat called blueberry jamboree. This dessert incorporates cream cheese with blueberries to make an unforgettable last bite to any meal! Follow Jennifer on Twitter @BakeorBreak
What is your favorite meal to cook after a long Sunday?