Spooky season is officially here and Halloween is right around the corner. Are you prepared with all the festive treats?!
We've got you covered. No tricks here;  just simple, quick and delicious recipes you can make for all your family and friends! Let's get into the Halloween spirit!
Who doesn't love a charcuterie board? This is a kid friendly version of a tried and true classic. Delicious and sweet!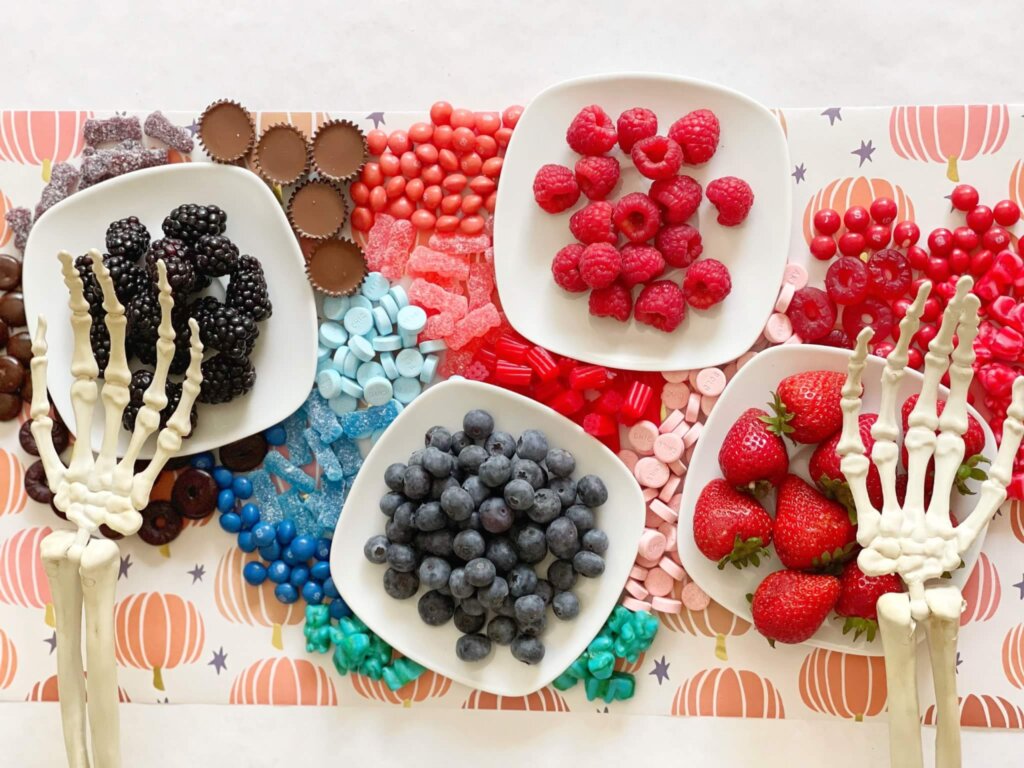 Ingredients
Fresh Wish Farms Strawberries
Fresh Wish Farms Blueberries
Fresh Wish Farms Raspberries
Fresh Wish Farms Blackberries
Color coordinating assorted candies for each berry
Strawberries: Gummy Bears, Skittles, Lifesavers
Raspberries: Sweetarts, Berry Sour Patch Kids, Twizzlers, Skittles
Blueberries: Gummy Bears, Skittles, Berry Sour Patch Kids, Sweetarts
Blackberries: Reeses, Lifesavers, Junior Mints, Berry Sour Patch Kids
Here is a treat that is a good healthier alternative to the many sweets that come with the holiday. Fresh fruit rolled into energy balls disguised by an adorable mummy design!
Ingredients
Strawberry Jam
4 1/2

cups

Strawberries

Fresh, Washed and patted dry,

1/2

cup

Granulated sugar

2

tbsp

Lemon juice

Freshly squeezed
For Peanut Butter Jelly Energy Balls
1 cup

oats

1/2 cup

natural peanut butter

3 Tablespoons

of your jelly mixture
For Decorating
White chocolate to melt
Black Icing
1 ziplock bag
3.  Berry Jack-O-Lanterns
Behold! The most adorable "pumpkin" carving you ever did see. Fill to the rim with fresh berries and watch them disappear!
Ingredients
1 orange
Wish Farms blueberries, rinsed
Wish Farms blackberries, rinsed
Wish Farms strawberries, sliced
Wish Farms raspberries, rinsed
Need more festive food ideas? Check out our recipe page for more Halloween and Fall recipes!