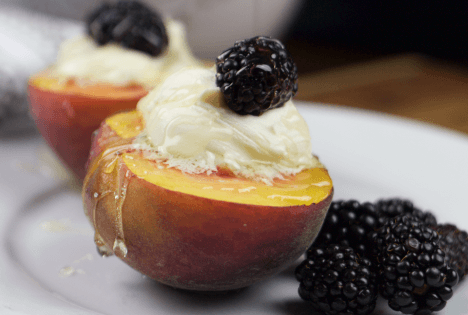 Our first blackberry dessert is not only a healthy alternative to the boring, after dinner ice cream bowl or cookie, but it is a guaranteed a winner with the whole family because it is absolutely delicous.
Want to know the kicker?!
This dessert is only 5 minute prep, with a 5 minute broil in the oven.
That's right…in only 10 minutes and you have the dessert of your sweet tooth dreams!
Mascarpone cheese isn't your ordinary cheese. This mild and creamy cheese almost has the taste and consistency of a cheesier cream cheese. Soft, smooth, and delicious!
Placing this ingredient on top of a warm, soft, and browned peach halve allows the cream to melt on contact, causing a cascade of cream. Want some more pizazz? Drizzle honey on top!
The real star of this recipe is by far the blackberries because they add the right amount of bite to allow your palette to taste every single note in this dish
The taste combinations of the sweet and earthy peach, the cheesy savory marscarpone, and sweet with just enough tart blackberries is seriously a trio made in heaven!
Want to make it yourself tonight!?