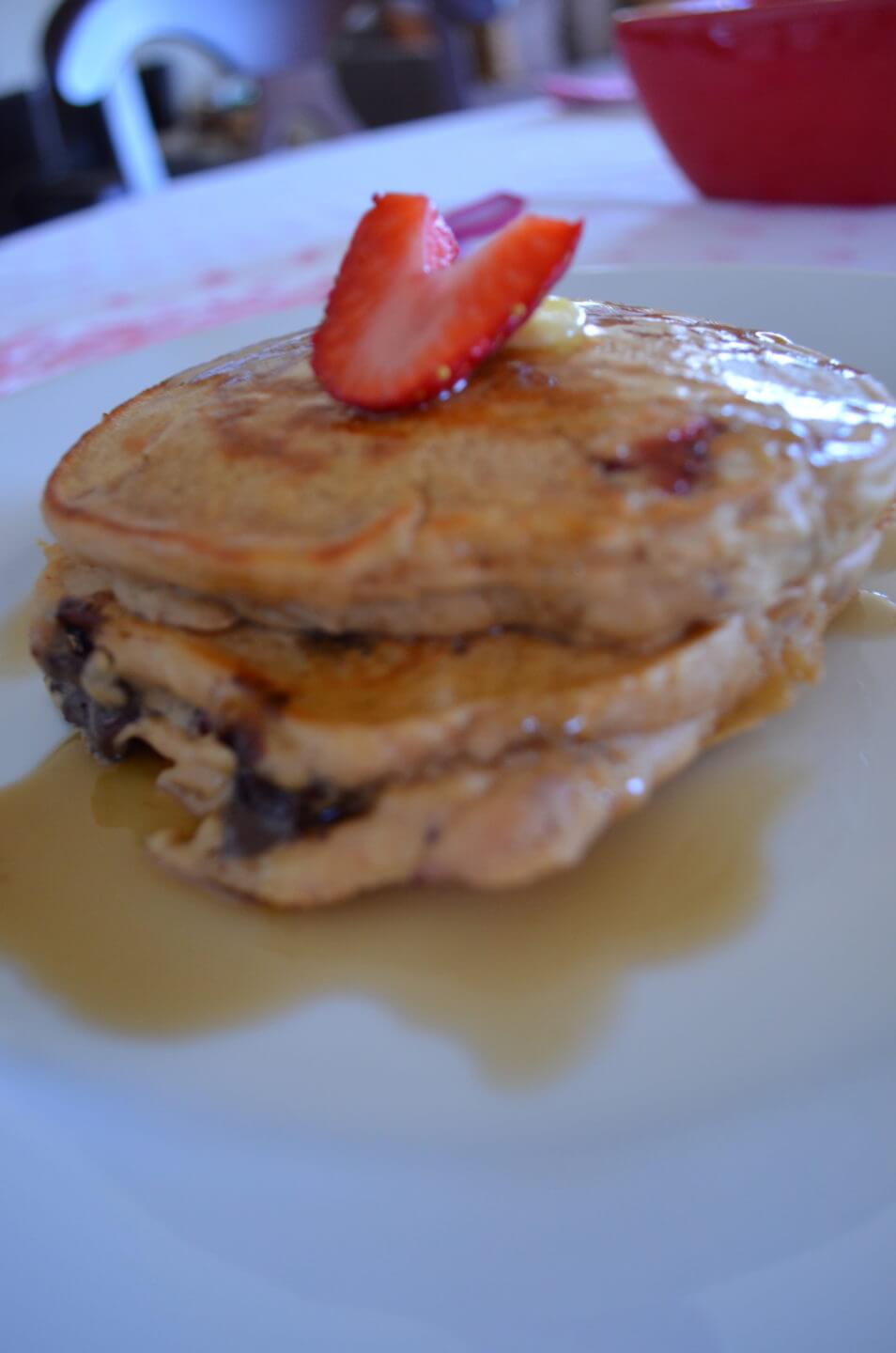 Who wouldn't want to start their Valentine's Day with strawberries, dark chocolate, and brown butter?? It's even better when you put all of those things together and make pancakes out of them! Happy Valentine's Day indeed!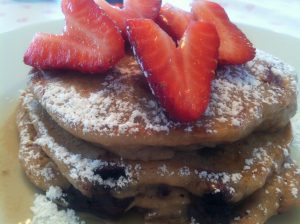 I was inspired by a recipe from one of my favorite blogs How Sweet It Is. (I read it every day AND laugh out loud because the creator, Jessica, is so funny. Add it to your blog reading list!)
Also… just to make the morning really special… add a bouquet of heart-shaped Wish Farms strawberries with an organic yogurt dip.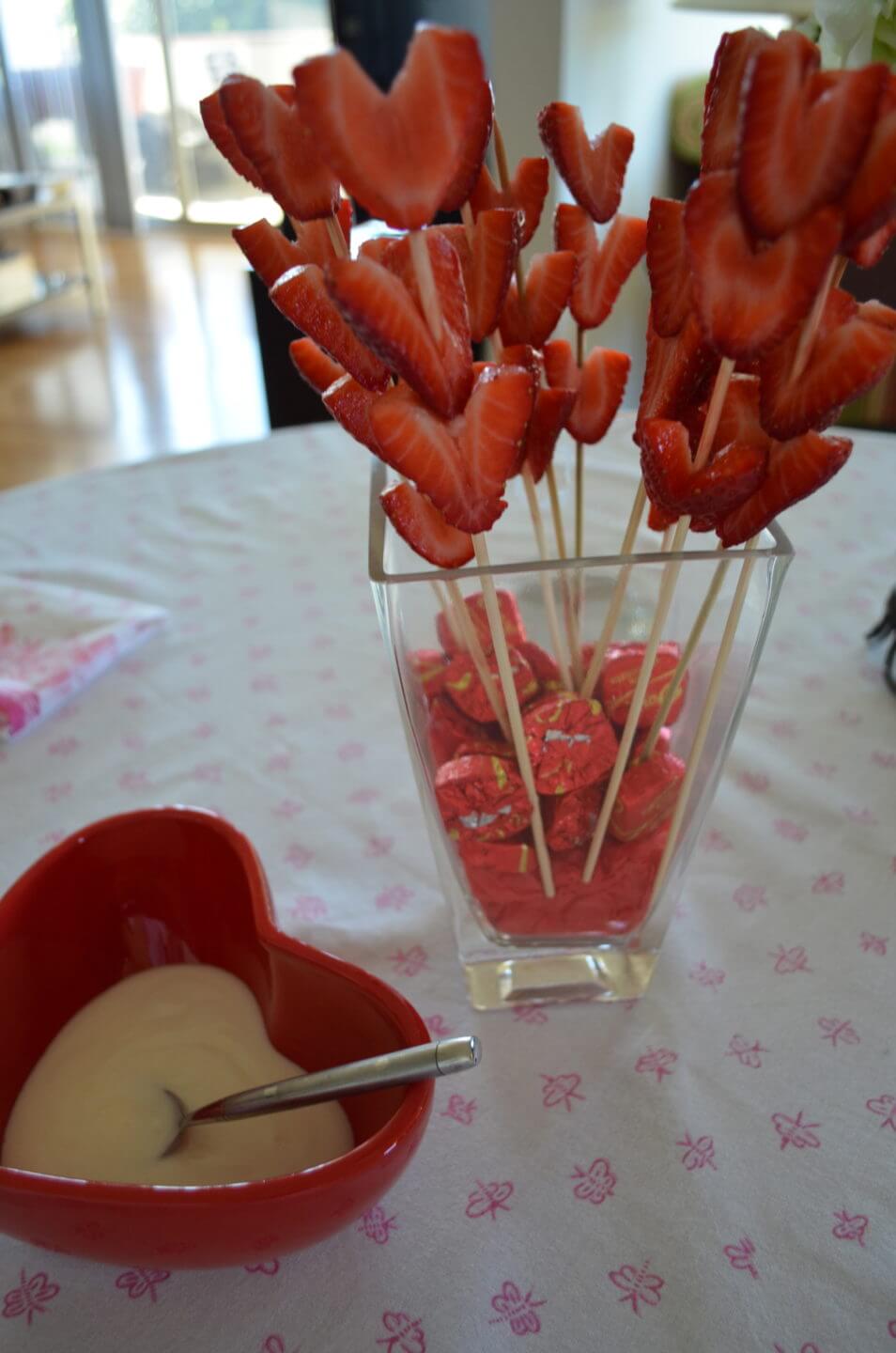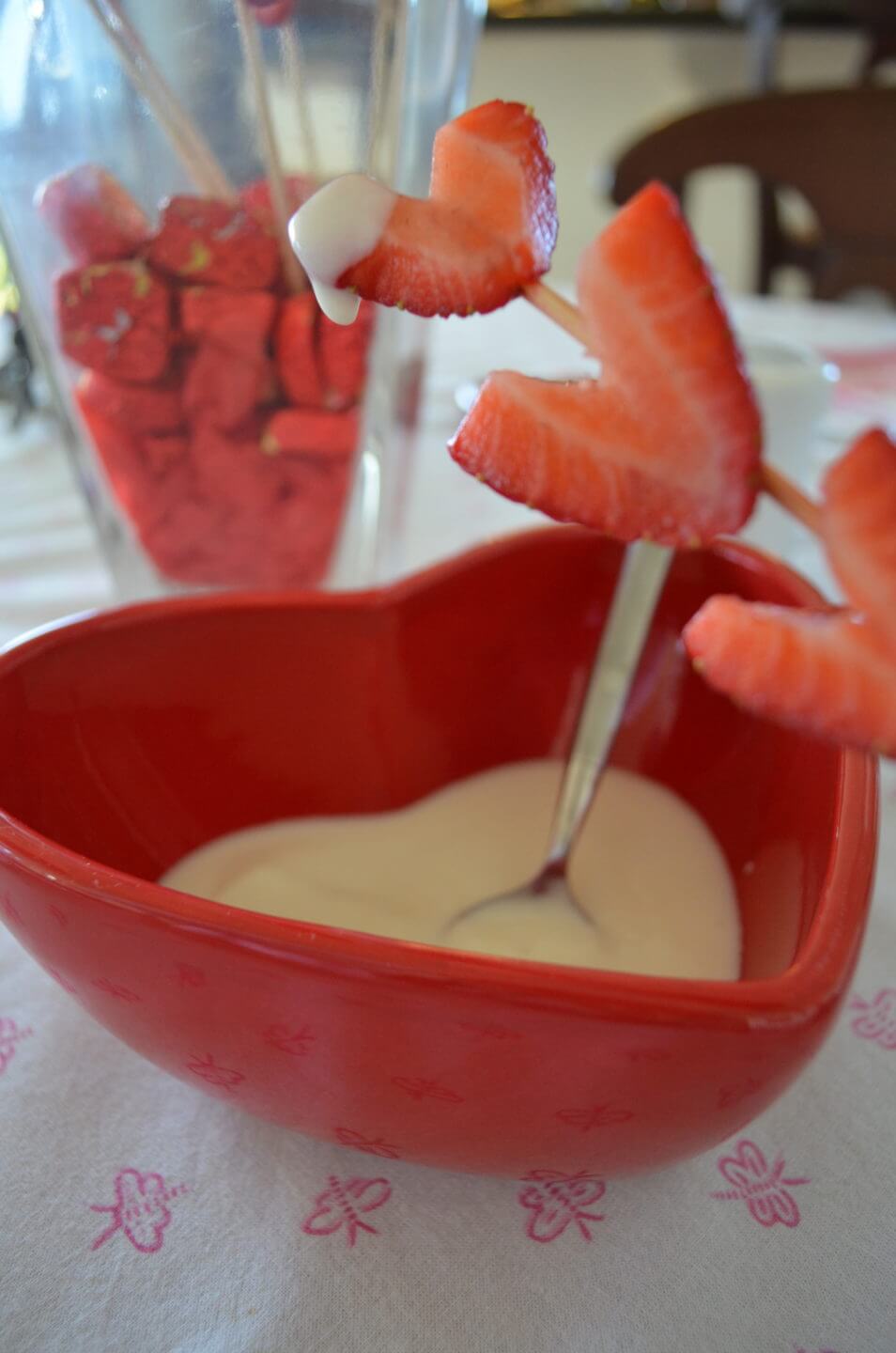 Here's what you need for the pancakes:
2 cups sliced strawberries (good quality such as Wish Farms)
olive oil for drizzling
1/4 cup unsalted butter (organic is best)
1 1/2 cup whole wheat flour
1/2 cup quinoa flour (or just all whole wheat… if you can't find whole wheat then you can use unbleached all-purpose)
1 tablespoon coconut sugar (turbinado or regular sugar can be used instead)
2 teaspoons baking powder
1 teaspoon cinnamon
1/2 teaspoon salt
2 teaspoons vanilla extract
1 egg
1- 1 1/2 cups hemp milk (regular milk can be used instead)
dark chocolate
Roasted strawberries have to be one of my new favorite things. The roasting brings out so much flavor. These can be used in so many things from cupcakes and muffins to topping on ice-cream and oatmeal, OR just spread over toast instead of sugar-filled jellies. All you need to do is lightly drizzle the sliced strawberries with olive oil and roast in the oven heated to 375 degrees for about 20-25 minutes or until you start seeing some caramelization and they become juicy. Set them aside to cool.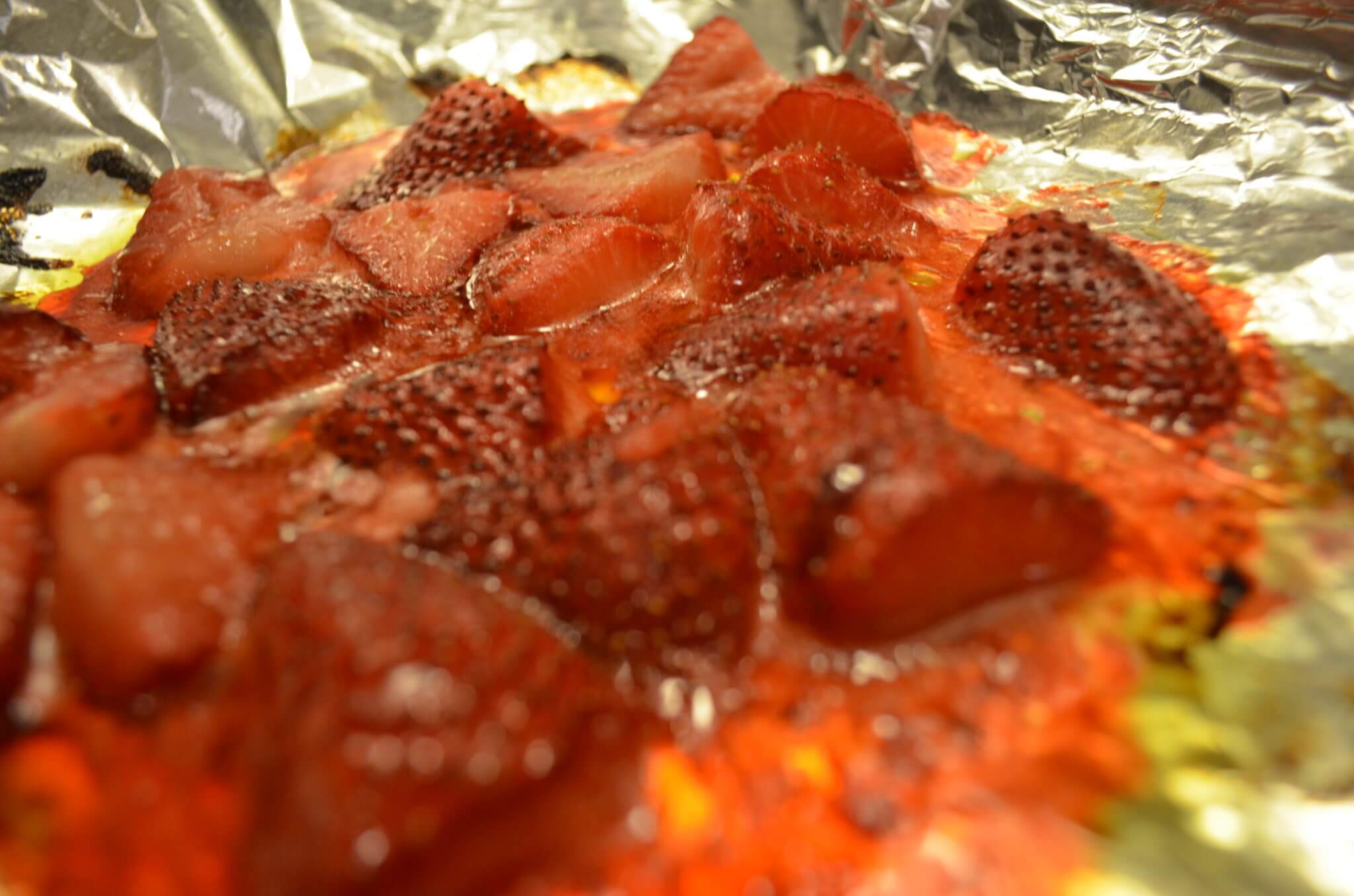 Ahhh brown butter…. one of the best things ever. I love the smell of melted butter, but when you brown the butter it creates a nutty flavor that makes everything you add it to so rich tasting. By adding the brown butter to recipes you create an extra layer of flavor that really makes a difference.
*Place the butter in a sauce pan and heat over medium-low heat whisking and swirling consistently. Continue until small brown bits start to form… about 5 minutes. There is a fine line between browning and burning so make sure to keep your eye on it and remove from the heat when the butter begins to brown.
While the strawberries and butter cool a bit you can prepare your heart-shaped strawberry bouquet. Simply cut the tops off of the strawberries and then cut them in half. Use a paring knife to cut the tops of them into a heart-shape. Then slide 3-4 of them onto a kabob skewer and place into a vase. I filled a vase with some wrapped dark chocolate to help keep the skewers stand straight.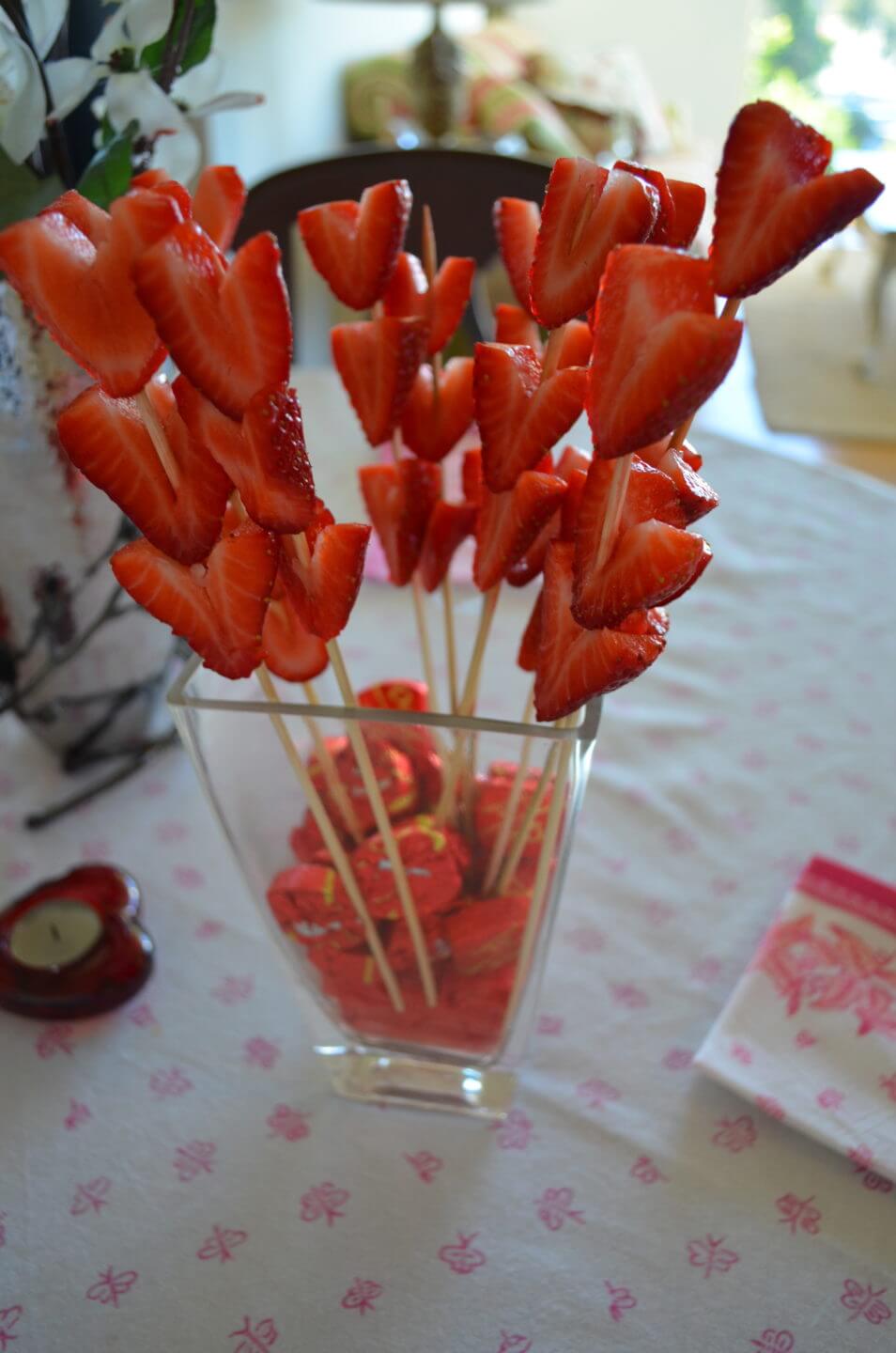 Strawberries are such a great food item to use for Valentine's Day because they already look like little hearts!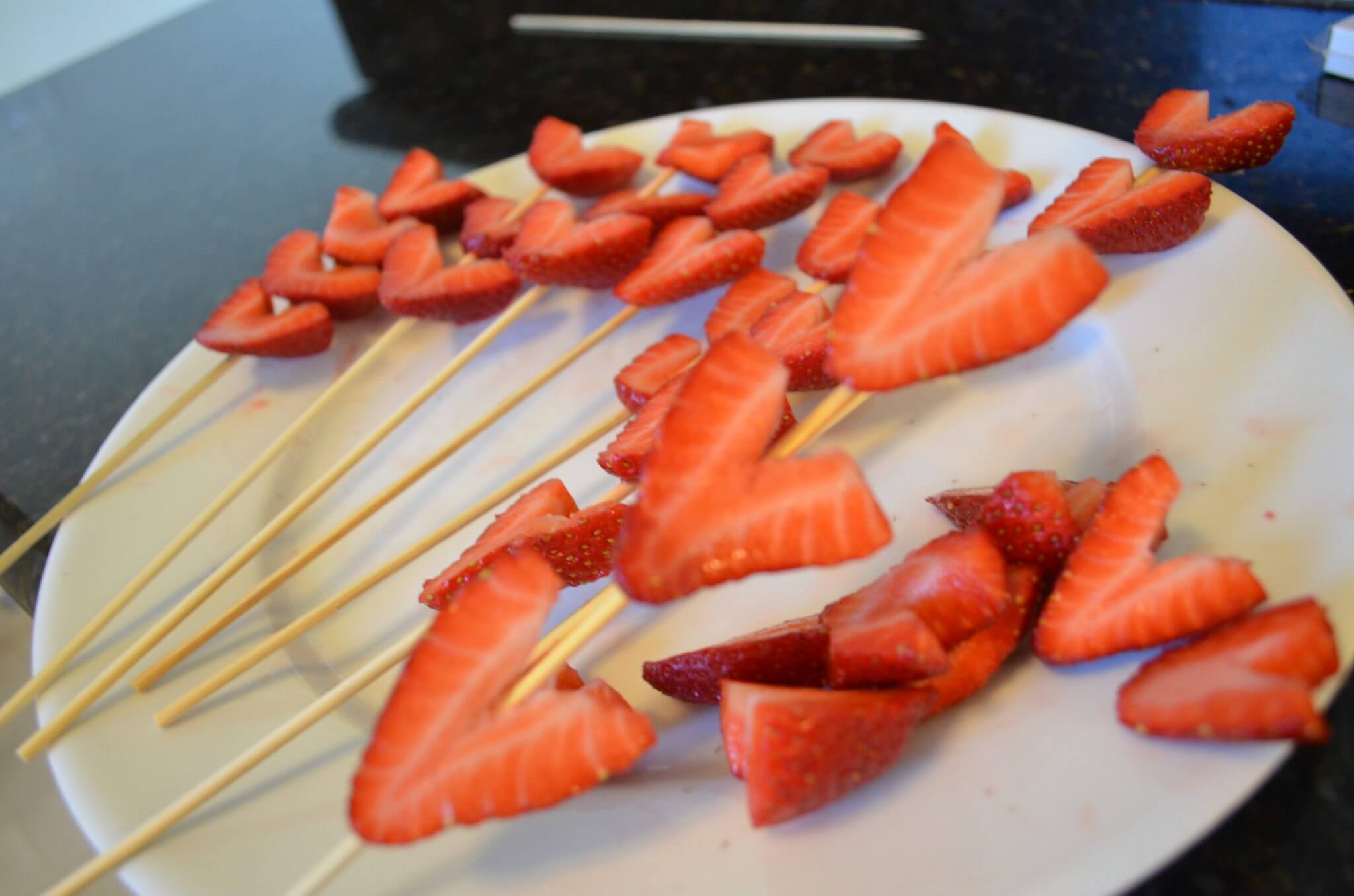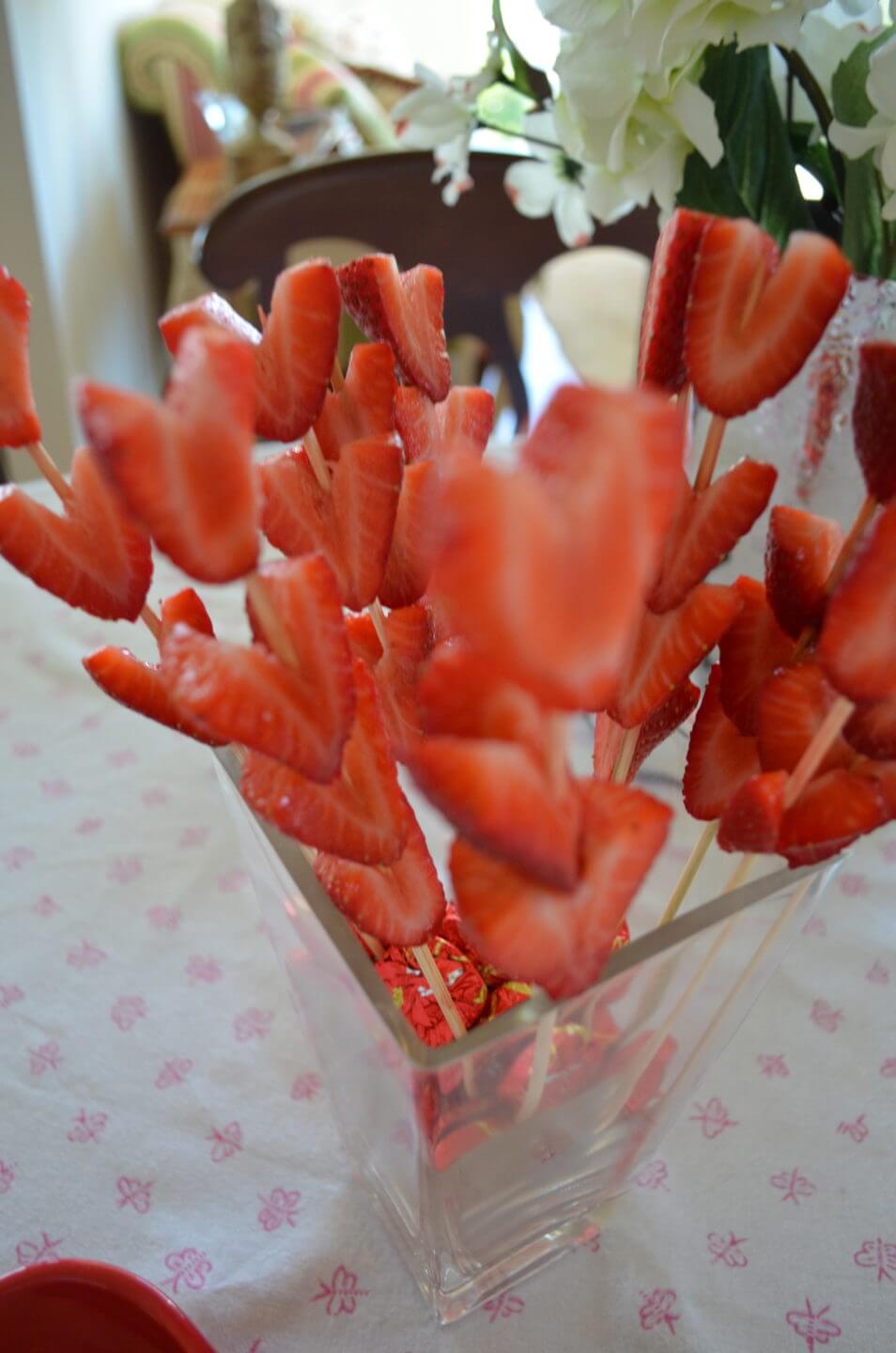 For the dipping sauce I simply added a bit of honey to some organic yogurt.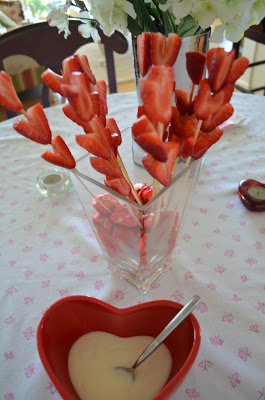 Then it's time to prepare the pancakes!
*In a large bowl whisk together the flour, sugar, baking powder, cinnamon and salt
*In another bowl whisk together 1 cup milk, egg, and vanilla
*Slowly add the wet ingredients to the dry until just combined
*Gently stir in the browned butter making sure to add all of the delicious brown bits!
*Then add 1/3 of the roasted strawberries stirring until just combined. You don't want the batter to be too thick so add the extra 1/4 cup milk if needed… being careful not to over mix.
*Heat a griddle on the stove over medium heat. Spread some butter evenly over the griddle.
*Spoon the pancake batter onto the griddle and sprinkle with the dark chocolate and then cover with a little bit more batter. Try and find good quality dark chocolate, which is normally in a bar, and chop to desired size. I do that because I like having some small piece and some big pieces of chocolate throughout.
(You can make these any shape you like or however big/small you would like)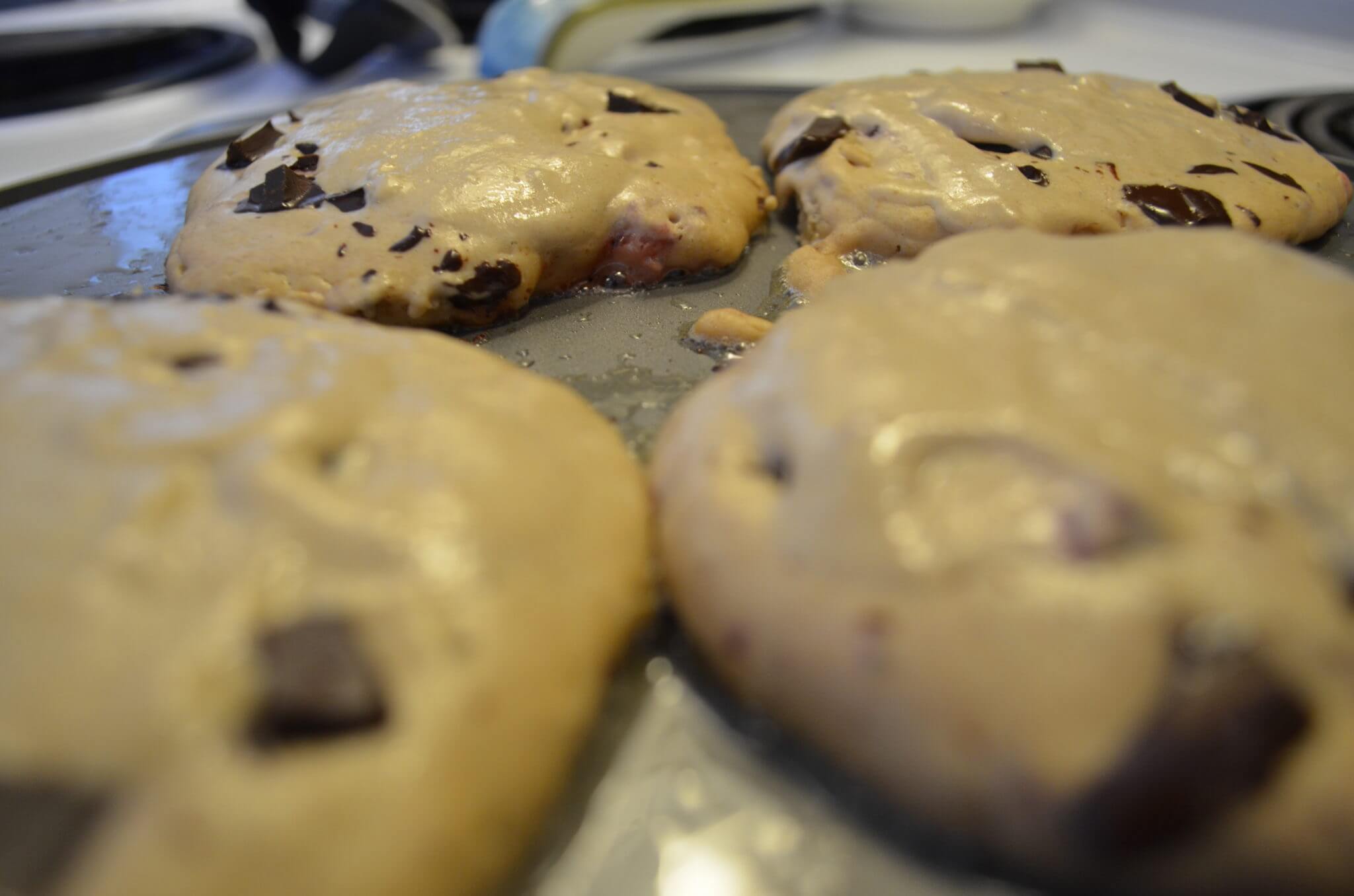 *Once you start to see bubbles on the tops of the pancakes then you can flip them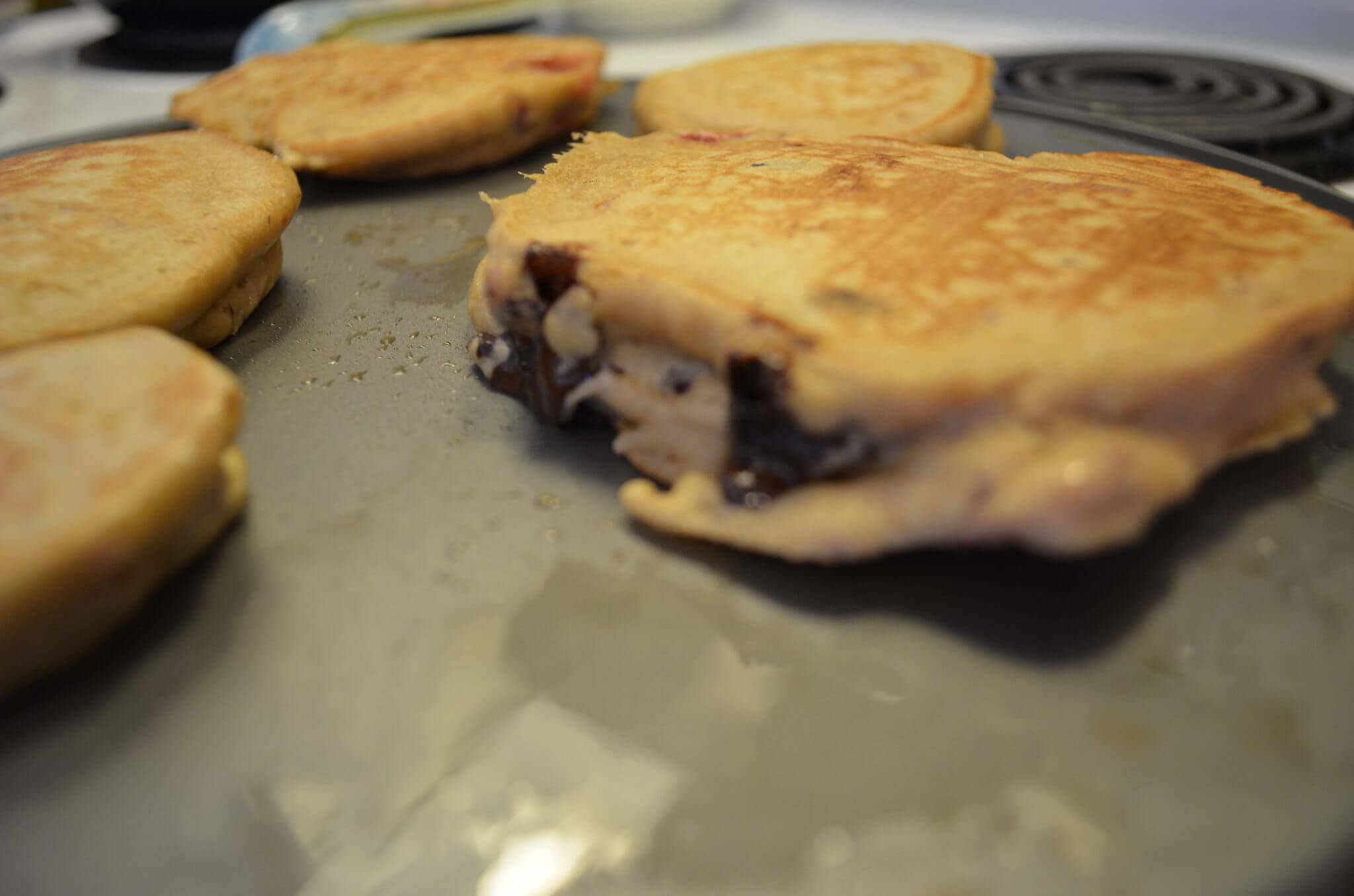 *Serve them with fresh strawberries or the remaining roasted strawberries. I really like the roasted strawberries… you will become addicted to these I promise!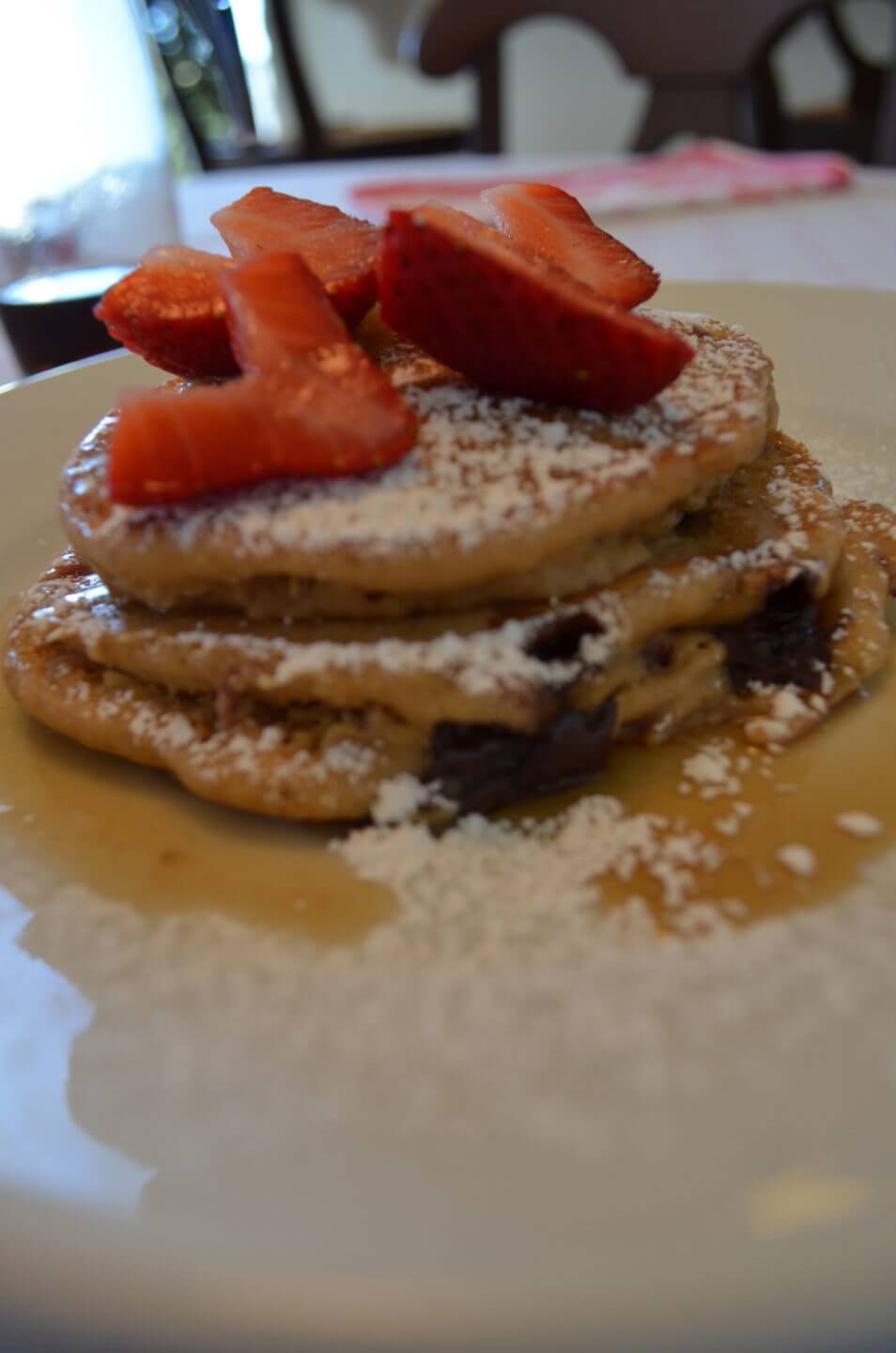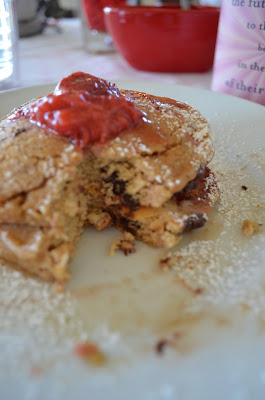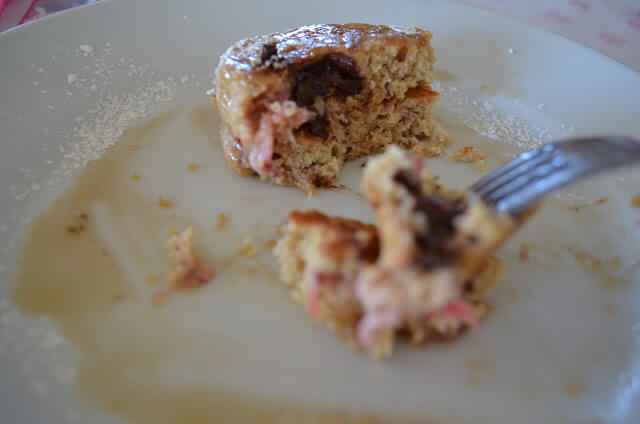 This is the BEST way to start out your Valentine's Day!