Pairing wine with food is something that I have learned to appreciate since I met my husband.  We are always looking to see what pairs well with what we are eating and if we think it actually compliments the food. When we were in Italy we learned from the locals that their wines are NOT "cocktail" wines… they are meant to be consumed with food as part of the meal.  As most wines in other countries are thought of the same way it's really only here in the US (as far as I know at least) that we have wine as something to sip on and chat….without food.  Soooo with that said I think people should be a little bit more open to pairing because it makes the wine and the food taste so much better than if you had them separately.
Since New Years is this coming up I thought it might be fun to talk about what to pair with champagne/sparkling wine.  Three of my favorites are goat cheese, Wish Farms strawberries, and the not so classic pairing… prosciutto!  You can have them separately on a cheese platter, use the strawberry as a garish, or (even better) combine the three and make an amazing appetizer that is easy to have at any New Years Party! The sweetness from the strawberry, the creaminess from the goat cheese, and the saltiness from the prosciutto combined are perfection with the bubbly drink!
Here's what you need:
A pint of Wish Farms strawberries
4 oz goat cheese (room temperature)
1-2 tablespoons milk or cream
zest of half a lemon thyme, rosemary…. or whatever herbs you like…
about a teaspoon salt and pepper to taste
about 4 slices of prosciutto (You can leave this out if you don't eat meat)
*Preheat your oven to 400 degrees
*Place the prosciutto on a baking sheet lined with parchment paper
*Bake in the oven for 8-10 minutes or until crispy
*Set aside to cool
*Cut the tops off the strawberries and, using a knife or melon baller, make a hole in the middle
*Cut just enough off the bottom of the strawberries to make them flat so that they stand on their own
*Combine the goat cheese, zest, herbs, and enough milk/cream to make the mixture creamy
*Add salt and pepper to taste
*Scoop the mixture into a plastic bag.  Cut the corner of the bag and pipe the cheese mixture into the hole on the top of the strawberries (Can can do this with a spoon, but it may not look as clean).
*Top each berry with a small piece of the crispy prosciutto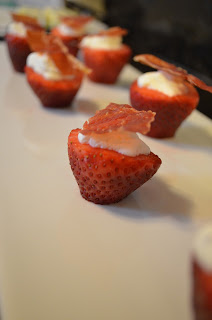 *Place a toothpick in each strawberry (Craft stores generally have fun festive toothpicks)
Enjoy this trio with a cold glass of champagne or sparkling wine!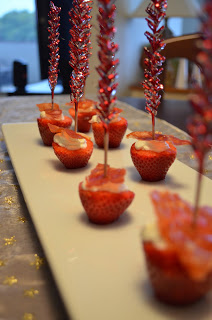 A couple other ways to use your Wish Farms strawberries….
… As a decoration…
… To add a little flavor…
Happy pairing!