Everyone knows that berries are a sweet treat! Blueberries and strawberries are incorporated into many delicious desserts. However, instead of cakes and pies, how about using berries in a more unqiue way? Make a savory berry dish that will be a crowd pleaser in any household. We have found some appetizing berry recipes where bloggers have given everyday meals a berry spin!
Andrea the Kitchen Witch
Strawberry Chicken
The creator of Andrea the Kitchen Witch is a young woman with a love of food. Andrea likes to cook as much as possible from scratch. She has numerous delicious recipes on her blog, including her strawberry chicken recipe. The chicken is marinated in the strawberry sauce to make sure the berry flavor shines! This recipe is perfect to add a sweet hint of strawberries to savory, grilled chicken. Serve alongside brown rice or a fresh salad and dinner is served!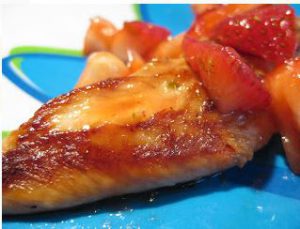 Inspired Edibles
Roasted Salmon in a Strawberry-Balsamic Reduction
Kelly Mulcair, the blogger for Inspired Edibles, is a nutritionalist who used to be a lawyer. She enjoys staying healthy and has many nutritious recipes on her blog. One of her recipes pairs strawberries with roasted salmon. The roasted salmon is cooked to perfection and is topped with a lovely strawberry balsamic sauce. The mix of salmon and strawberries might be unusual, but it is a delicious combination to try! Follow Kelly on Twitter @InspiredEdibles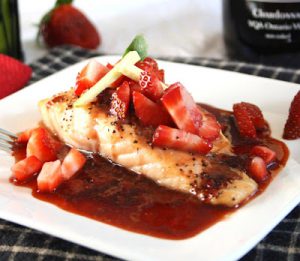 Eating Local in the Lou
Turkey Burgers with Blueberries and Blueberry Ketchup
Eating Local in the Lou was created by a dietitian named Elizabeth. Elizabeth enjoys using locally grown and in season products in her recipes to ensure great taste and quality! This makes her turkey burger with blueberies and blueberry ketchup recipe perfect to try now, since Wish Farms blueberries are in season. Elizabeth's turkey burger recipe is quite unique with its berry flare. It gives a savory burger a sweet kick with juicy blueberries! Follow Elizabeth on Twitter @EatLocalinLou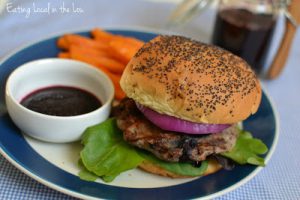 Wisked
Blueberry Quinoa Salad
Ilana is a young woman who created the blog Wisked. Right now, she is attending culinary school to further her interest in food. Ilana shares many delicious recipes of her on Wisked. One of the recipes happens to incorporate blueberries in a tasty salad. The combination of the grain, quinoa, and the blueberries make this salad far from bland. This would be a perfect berry side dish for any meal!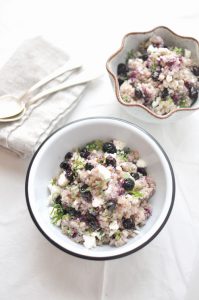 Frugal Antics of a Harried Homemaker
Steak and Strawberry Salad
The blogger for Frugal Antics of a Harried Homemaker, Kristen, is the third generation in her family to work in the food business. Kristen's family has always had a love for cooking and she enjoys sharing this passion with others. The blog has a mix of different types of recipes, including a number of gluten free recipes. One recipe that caught our eye was the steak and strawberry salad. The savory meat mixed with the sweet strawberries is a combination that everyone needs to try. It gives an ordinary salad a unique, delicious twist! Follow Kristen on Twitter @FrugalAntics