Memorial Day is a day to remember the men and women who have perished while serving in the United States Armed Forces.  It is a time to celebrate their lives and reflect on the sacrifice and service they gave to their country.  We hope you are able spend the day with family and friends and appreciate your time being together.  The Wish Farms family thanks all U.S. service members past and present as well as their families.
We've put together some Memorial Day berry dishes from some of our favorite food bloggers.  These fresh and tasty berry recipes pair well with any family celebration.  Enjoy!
Strawberry Bruschetta with Goat Cheese
Meg in the Kitchen is a blog by Meg – a student in nutrition and dietetics at Boston University. She loves coming up with great "made from scratch" meals, including this savory bruschetta recipe. Meg swaps the traditional tomatoes for sweet and tangy strawberries, giving it some new life! Bring this as an appetizer to your Memorial Day barbeque and it is sure to be a hit!  Follow Meg on Twitter: @meginthekitchen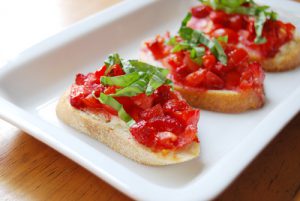 Grilled Chicken Salad with Strawberry Vinaigrette
Family Fresh Cooking is a blog by Marla Meredith. She loves staying active and is a proud mom of two children. Her mission is to keep her family strong, both in mind and body. This delicious salad was one of many fantastic berry recipes we found on her blog. This vinaigrette can be used to top a variety of different salads or even as a marinade! It is a must try! Follow Marla on Twitter: @MarlaMeredith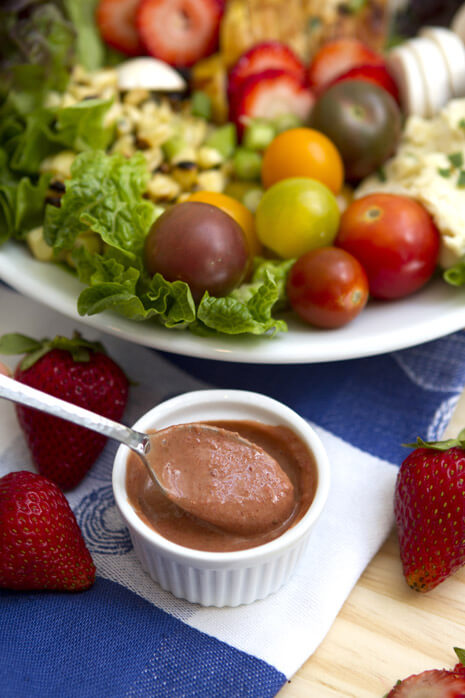 Cookin' Canuck is a blog by Dara Michalski. She has blogged her way through recipes, running a marathon, as well as a 30-pound weight loss. She also is a believer that eating healthy doesn't have to be boring! Of course every Memorial Day party needs a refreshing cocktail. Kick off summer with this delicious strawberry and lime daiquiri recipe! If you have young children or under 21's at your party, make a batch without the rum for them to enjoy, as well! Follow Dara on Twitter: @CookinCanuck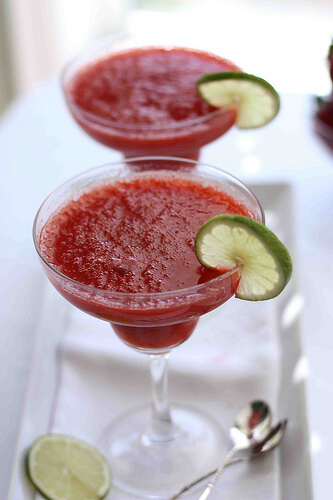 Ambrosia Baking is a blog by Nina, a student at Columbia University. When she's not at school, she is searching recipes and spending time in the kitchen. Impress your host/hostess this weekend with these mini strawberry-rhubarb pies! The presentation is beautiful and they are the perfect amount of dessert for each guest.  Follow Nina on Twitter: @ambrosia_tweets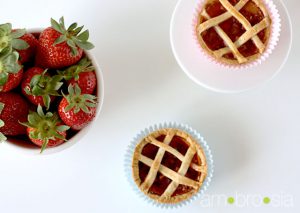 Strawberry Shortcake Popsicles
Bakers Royale is a food blog that's been around since February 2010.   Here you will find many different recipes – ranging from easy to difficult.  Some are made from scratch and others are recipes from other blogs, but either way, you are sure to find something you can't live without trying!  These Strawberry Shortcake Popsicles are a cool alternative to the traditional dessert.  With summer almost in full swing, these are a great treat for everyone to enjoy poolside!  Follow Baker's Royale on Twitter: @bakersroyale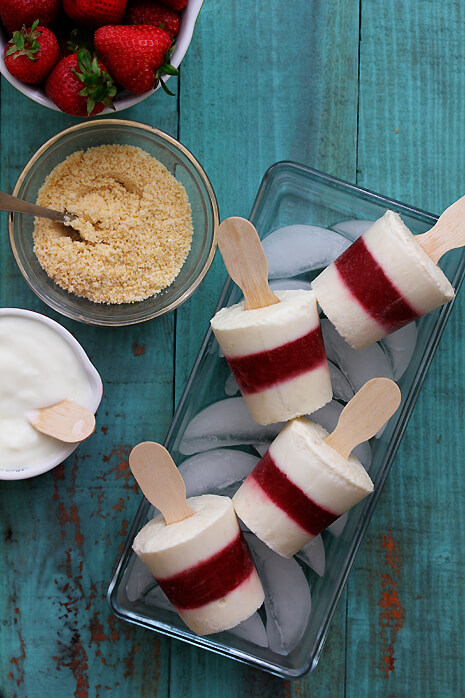 Did you enjoy fresh strawberries or blueberries as part of your Memorial Day weekend meals?  Let us know what recipe you tried!