PLANT CITY, Fla. – The Florida Strawberry Growers Association's Strawberry Picking Challenge raised more than $100,000. The fourth annual charity event's proceeds will benefit children of the Redlands Christian Migrant Association.
The fundraiser featured 20 corporate-sponsored teams competing in an exciting relay-style strawberry picking race. Some of the crews represented were International Paper, Publix, Farm Credit of Central Florida, Amalie Oil, and ATP. Strawberry growers from around the state motivated competitors and coached the corporate teams through the picking challenge. Ultimately, the Temp Labor team, coached by Hector Cruz Jr., was crowned 2017's "Best Harvest Crew." They are the newest recipients of the perpetual Strawberry Joe Trophy.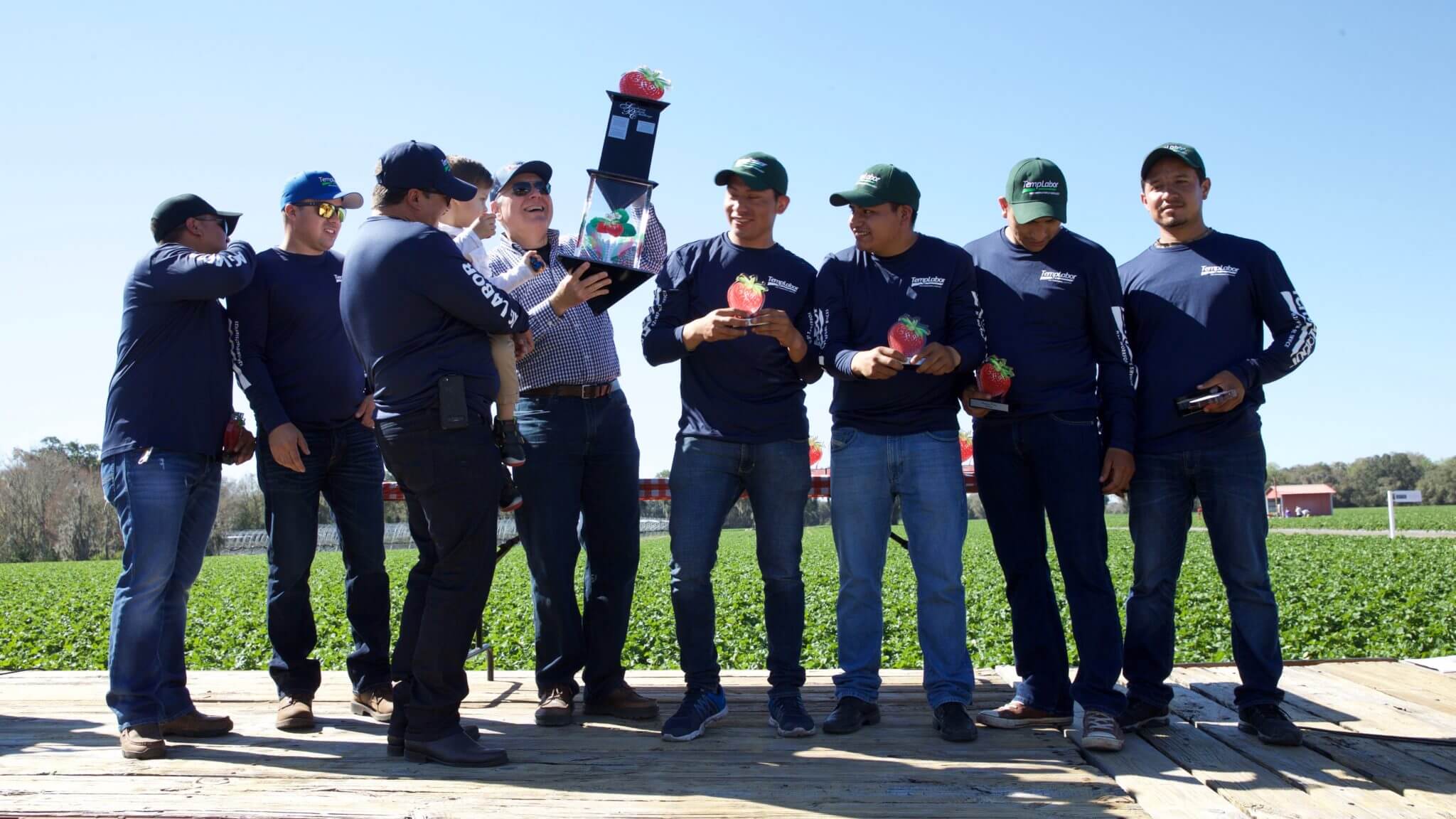 In addition to the amateur picking challenge, local strawberry growers nominated their best harvesters to battle it out in a picking competition for the pros. Misael Bautista, employee of Fancy Farms, received the highest judge's score for speed and quality, winning a cash prize of $300.
The day-long event featured a charity u-pick open for the public to pick their own strawberries. Other family-friendly activities included a strawberry shortcake eating contest, balloon artist, face painter, games, music, and even a special appearance by the Florida Strawberry Festival Queen and Court and N.R.G. "Next Radical Generation" singing group.
All proceeds from the Strawberry Picking Challenge will benefit Redlands Christian Migrant Association, a nonprofit that operates child-care centers and charter schools for Florida's rural poor, particularly farm workers' children. Wish Farms is a long-time supporter of RCMA. Since the event began in 2014, the Strawberry Picking Challenge has donated a total of $250,000 to the children of RCMA.
"This has been our best year yet," said Gary Wishnatzki, owner of Wish Farms. "The weather was gorgeous and the competition was exciting. We hope that we were able to recognize and bring awareness to our dedicated field workers and farmers, as well as the tremendous support that RCMA gives to the farm worker community."
To watch the recap video of the 2017 Strawberry Picking Challenge, please click here.
###
About Redlands Christian Migrant Association (RCMA):
Redlands Christian Migrant Association operates 70 child-care centers for Florida's rural poor, including 18 in the Tampa Bay area. RCMA also runs three charter schools, including two in Wimauma, in south Hillsborough County. Founded in 1965, RCMA has given thousands of children a vital boost toward success in school and life.  For more information about RCMA please visit www.rcma.org.
About FSGA:
In 1982, the Florida Strawberry Growers Association (FSGA) was officially formed, becoming a voice for Florida strawberry growers. The mission for the handful of farmers was to become "partners in research, promotion and member/community service." In the years since then, the growers have met that mission and succeeded in forming a voluntary organization that supports over 11,000 acres of berries. Hillsborough County produces about 15 percent of the nation's strawberries and virtually all the berries grown during the winter. The commodity has an economic impact on our community exceeding $700 million. The 20 million flats produced each year, if placed end to end, would extend from Plant City to Seattle and back again.
About Wish Farms:
Wish Farms, founded in 1922 and third-generation owned, is one of the largest shippers of strawberries in Florida and has been for over 50 years.  Nationally recognized for quality and innovation, Wish Farms is a year-round supplier of strawberries, blueberries and blackberries growing both conventional and organic varieties.  Wish Farms utilizes How's My Picking?™, a patented tool for traceability to ensure quality by tying consumer feedback to the harvest time, field location, picker, etc.   For more information about Wish Farms, please visit www.wishfarms.com.